I recently had another vacancy in one of my rentals. Previously, I used Avail landlord software to find a new tenant. Though my experience was a success, I continue to look for an alternative to Zillow. We often hear landlords ask "Is Apartments.com Legit?" I decided to advertise on Apartments.com and see for myself. For comparison purposes, I also decided to simultaneously list my rental on Zillow. I also posted my rental on Avail again to see if I had the same success this time.
In this article, I outline the difficulties I encountered while trying to advertise on Apartments.com.
I also compare my first week's results from listing my rental on Zillow vs. Apartments.com, Craigslist, and Avail landlord software, and which (if any) was the most successful in helping me find the right tenant for my rental.
Update 4/23/2021: After several days of no leads from Apartments.com, I eventually received more leads and scheduled some showings through leads from all platforms. The first applicant qualified for my rental, and I have subsequently signed a lease with them. This renter found the listing on Apartments.com. The final results are included in the table below.

How to Advertise on Apartments.com
For landlords who have seen many positive reviews of Cozy and want to start using this software, new users are no longer able to create an account on Cozy now that this has merged with Apartments.com. Instead, I was re-directed to Apartments.com where the first step is to add my property: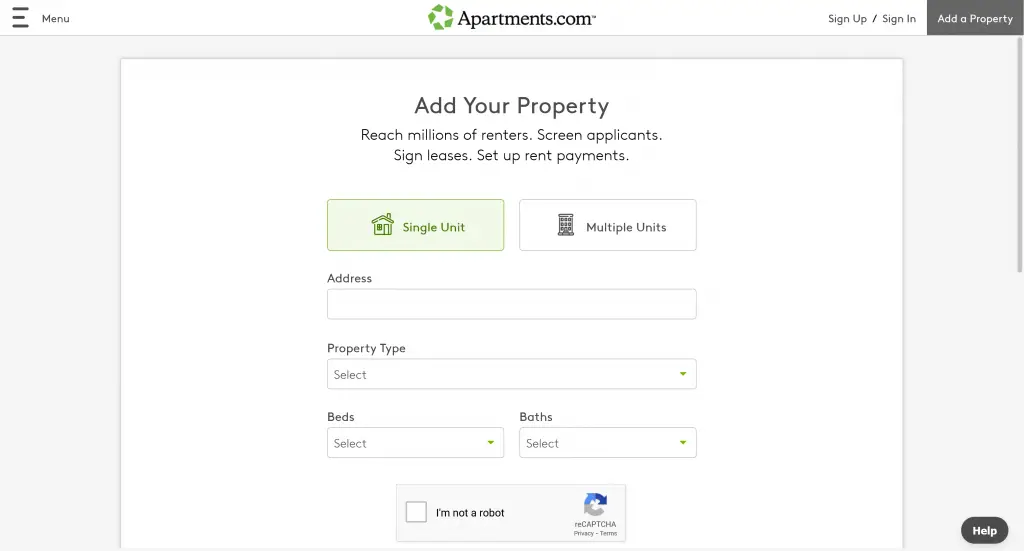 After completing this form, users need to sign in or create an account. Since I was a new user, I tried to create an account. However, this just took me back to the Apartments.com home page.
Unsure what I was supposed to do next, I clicked on the "Add a Property" button at the top of the page. This took me back to the page I was just on where I added my property. Unfortunately, it did not save my data from the first try, so I filled out the form again. And again, after submitting this information, I was directed to create a new account, which again took me to the home page.
This time, I chose to go straight to the "sign up" page where I was able to successfully create an account. However, I had to add my property details all over again for the third time.
Hint: Create your account first, before adding a property. 
Adding a Property on Apartments.com
Now, I stepped through the process of adding my property for real, uploading photos, writing a description, selecting amenities, and indicating availability. I also tried to add a video tour to improve my listing's appeal, but apparently, video upload is offered only for premium listings. I wondered how much does a premium listing on Apartments.com cost? Unfortunately, they do not make this information readily available during the listing process, so I moved on to the next step.
I added my contact information for the listing. A nice option here is that Apartments.com does give landlords the choice to be contacted by interested tenants via email, phone, or both.
After this step, I saved my listing and stepped away from my computer for a few moments. When I came back later to publish the listing, I received an error, saying I needed to upload photos first – even though I already did. I uploaded my photos again (8 in total) and published the listing successfully this time. However, now there are 2 copies of each photo on my listing, and I am unable to remove the duplicates.
This highlights what I think is a major flaw in getting set up to advertise on Apartments.com: landlords are not able to preview their listings before publishing. Once the listing is live, you can see what a renter sees, but it would be better in advance before potentially displaying incorrect or incomplete information to tenants.
Apartments.com Account Verification
Upon publishing a new listing, landlords must verify their identity before they can advertise on Apartments.com for the first time. They appeared to give me an option to send a code to my phone or answer a series of questions. I chose to receive a code on my phone, which I successfully received and submitted.
After entering the code, I had the opportunity to allow renters to submit applications directly from the ad. I declined this option, as I prefer to receive applications only from people who have come to tour the apartment first and only then decide to apply.
Apartments.com Premium Listings
Next was the Apartments.com premium listing upsell. The price offered to me was $349 for 30 days. This was the first and only place I could find the price for premium. I did later see in the fine print on their website this statement: "Pricing for Premium varies depending on your state and market, and you will be prompted with the price when the feature is activated."
Note: Eli contacted a representative at Apartments.com and received different packages and pricing.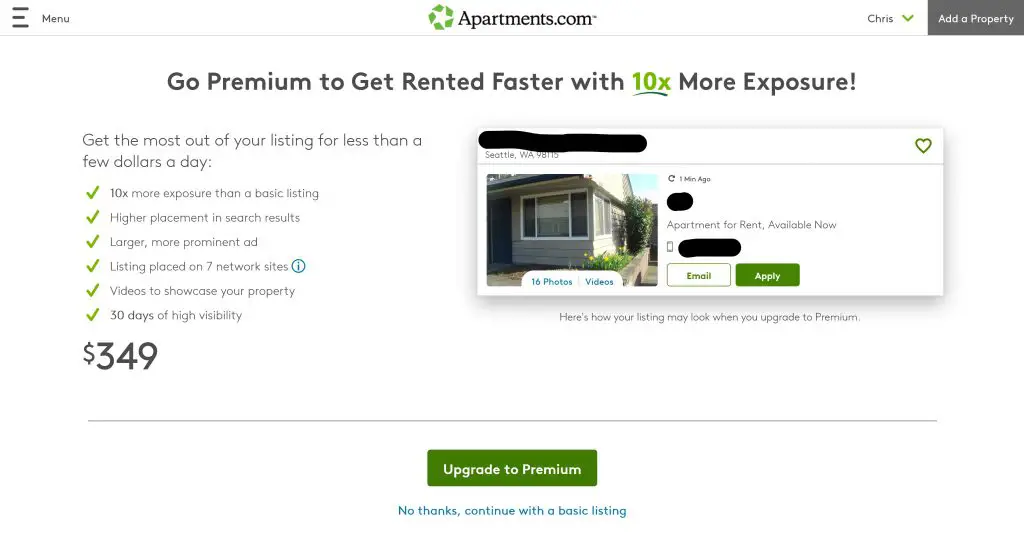 Publishing Your Listing
Here is where I encountered my biggest obstacle with trying to advertise on Apartments.com. Once I completed my listing, instead of it being active, it was not published immediately, but rather shown as "pending". I could not find any information about how long it would take to become active. I assumed it would just be a matter of hours or the next day at most.
At the time, I sent a help request asking about this but did not receive a response. When my listing was still showing as "pending" over 5 days later, I eventually called customer service.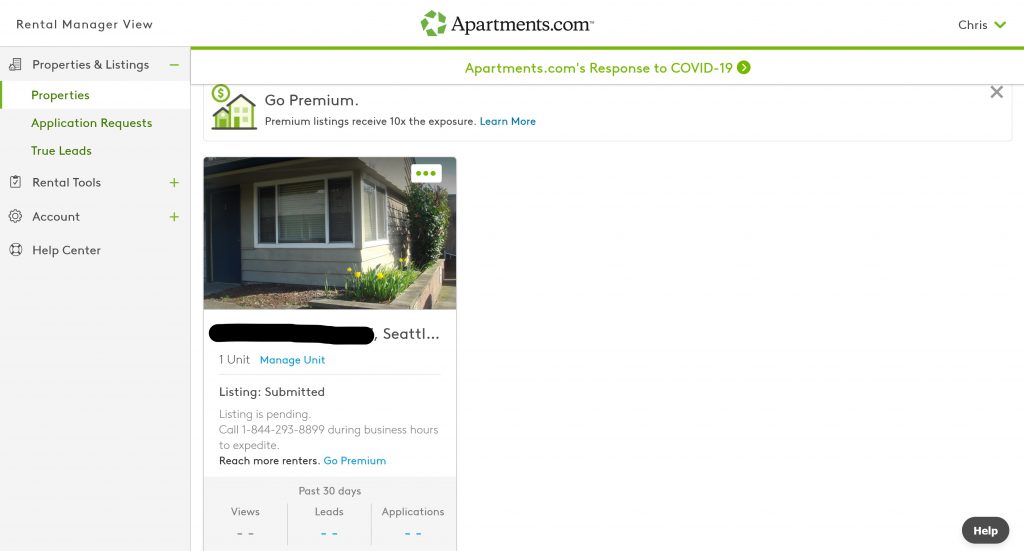 The customer service rep told me they have to verify new landlords and have been too busy to get to everyone in a timely manner.
As discussed earlier, I thought I had already done this on day one with the text message verification code. Apparently, I still needed to answer a series of questions about the property *in addition* to the phone verification.
So, I proceeded to answer a few questions about the property: address, details, ownership, etc. Finally, a couple of hours after I completed this step, my listing appeared as active. The result was a delay in my listing appearing on the Apartments.com platform for over 5 days. This included a lost weekend where I had no scheduled showings from Apartments.com.
Hint: don't wait for Apartments.com to approve your listing. Call the phone number listed to "expedite your listing". It appears that Apartments.com does not have enough resources to ensure timely service for smaller, independent landlords like me.
Update: I eventually did receive a response to my help ticket the day after my listing was published.
Is Apartments.com Legit?
My listing has been live for several days now. Unfortunately, it has not resulted in a single lead. It is worth mentioning that Eli was also looking into advertising on the Apartments.com platform. An ad sales representative told him that without paying for some form of ad package or premium listing, no one sees your listing.
If it is true that finding a renter through Apartments.com's free listing site is next to impossible, it seems that Apartments.com may not be a legitimate resource for do-it-yourself landlords to advertise their rentals.
Update: I eventually did receive an inquiry through Apartments.com, which they call a "True Lead." I received an email with the renter's name, contact information, and some other optional information that they filled out. However, there does not seem to be an easy way to respond to the person through the Apartments.com platform. You need to send them a regular email, or call them. I dislike this for a couple of reasons:
Privacy concerns: their contact information is not hidden. It appears that once you send them an email, they now have your email address as well. Most other platforms keep your email address anonymous. This seems to me an opportunity for abuse.
There is no centralized message thread or history. To find previous messages, I had to search through my sent and received emails to find all my correspondence with the renter. This not as good as an experience as Zillow or Avail have to offer.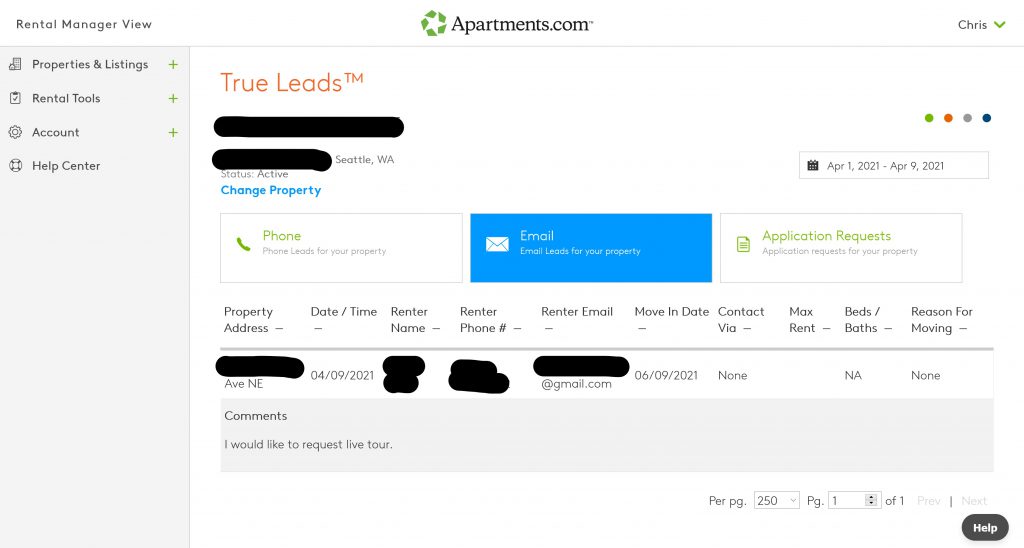 Listing on Zillow Rental Manager
I simultaneously listed my rental on Zillow Rental Manager. As we have discussed before, Zillow now charges $9.99 per unit per week to advertise on their network of Zillow, Trulia, and Hotpads. After the first week, I received about 10 leads, though most of them never responded to my follow-ups. 4 people scheduled showings, though only 2 arrived for their scheduled appointments. None resulted in applications, and I am now in my 2nd week of listing it at another $9.99 out of pocket.
Note: Landlords must make sure to cancel Zillow's weekly auto-renewal if they have found a tenant and want to take down the listing. Otherwise, Zillow automatically bills the credit card on file at the start of each 7-day period.
Listing on Avail
As it is free to list a rental on Avail, I decided to list this one there as well. I received almost the same number of inquiries as from Zillow after the first week: 4 coming from Zumper and a couple each from PadMapper and Apartment List, with one, completed showing so far.
The listing process on Avail is comparatively easy and straightforward, and features such as scheduling showings and a pricing estimation tool are welcome additions.
Advertise your property, find and screen tenants, sign leases, collect rent, and e-sign custom local leases, with tools built specifically for DIY landlords.
Strength: Complete Solution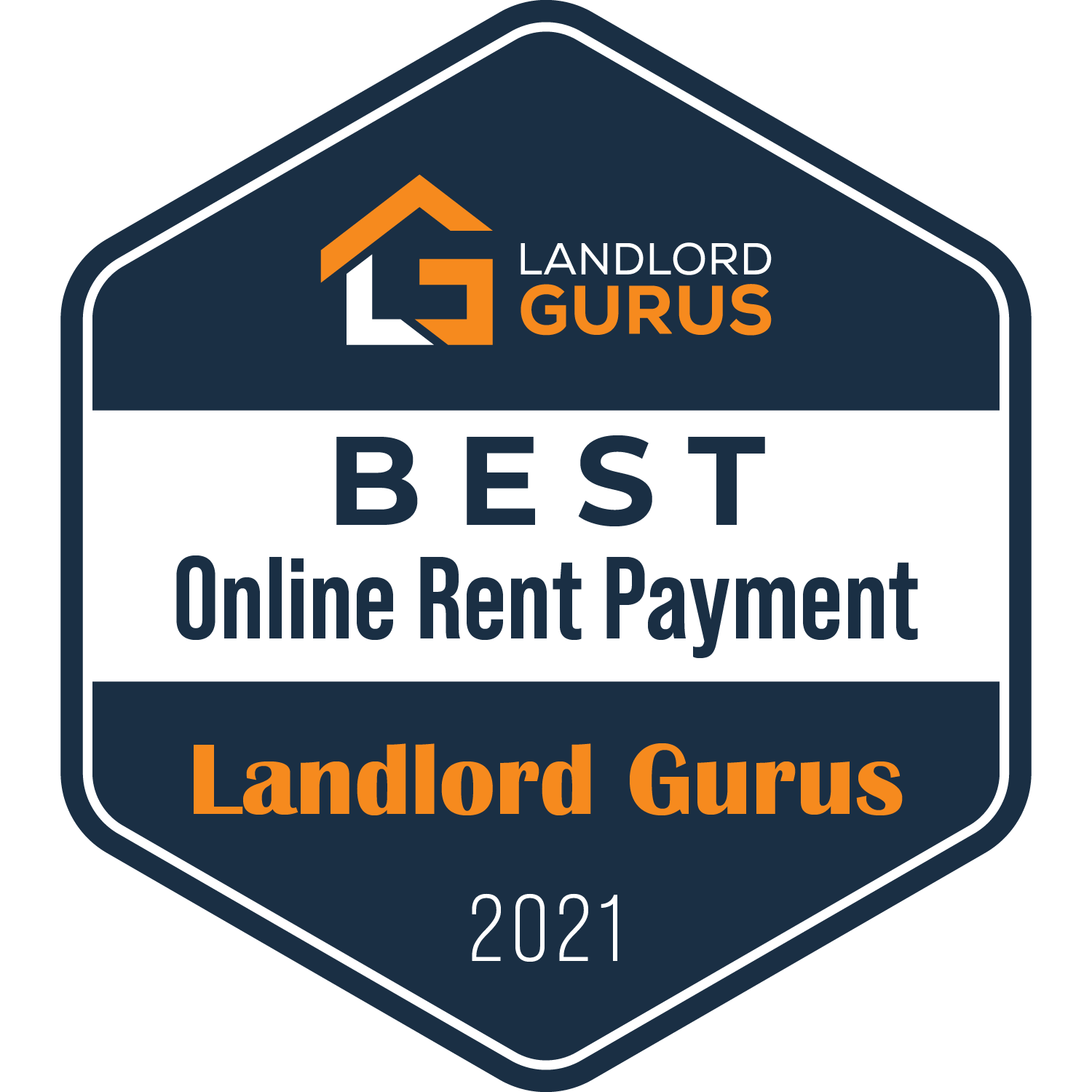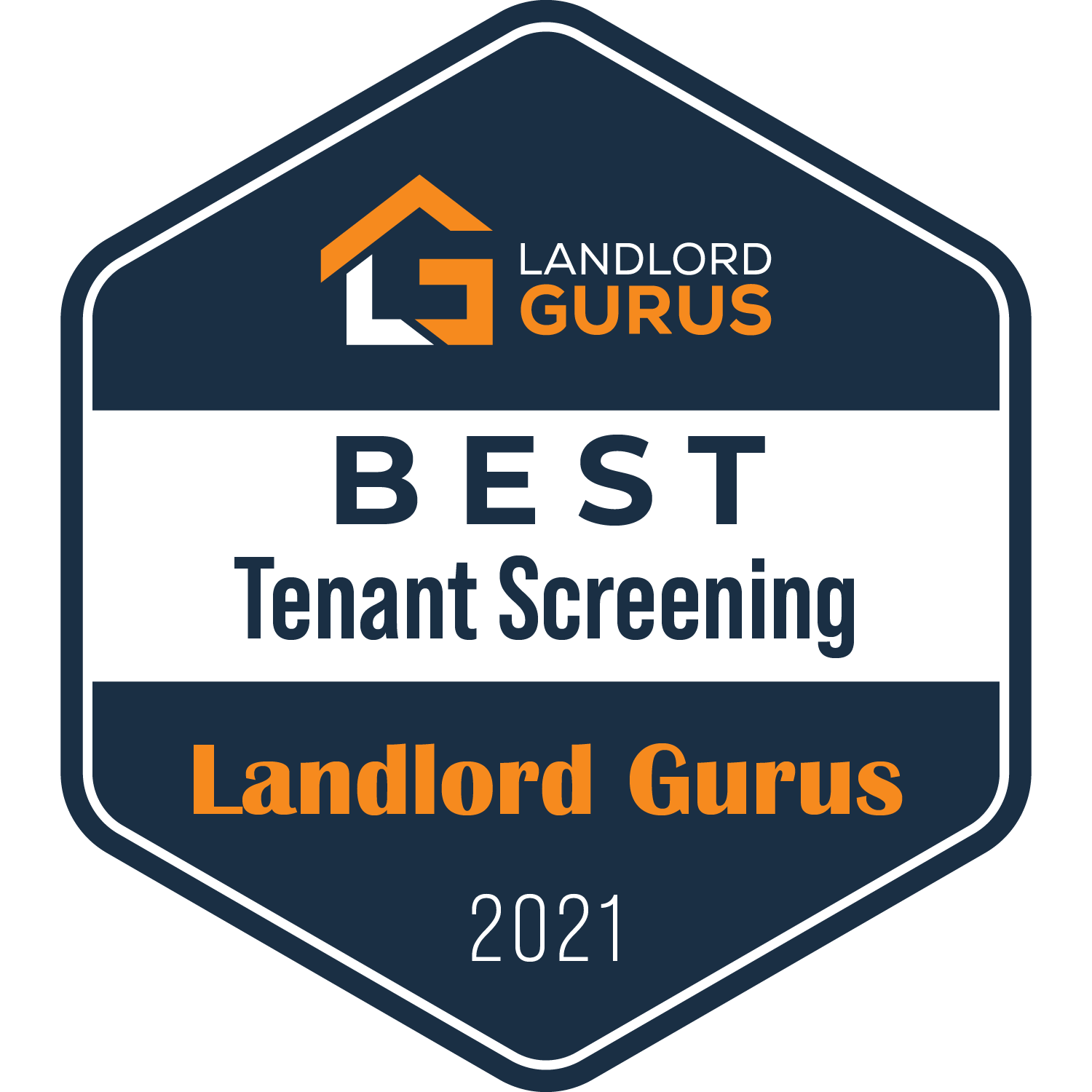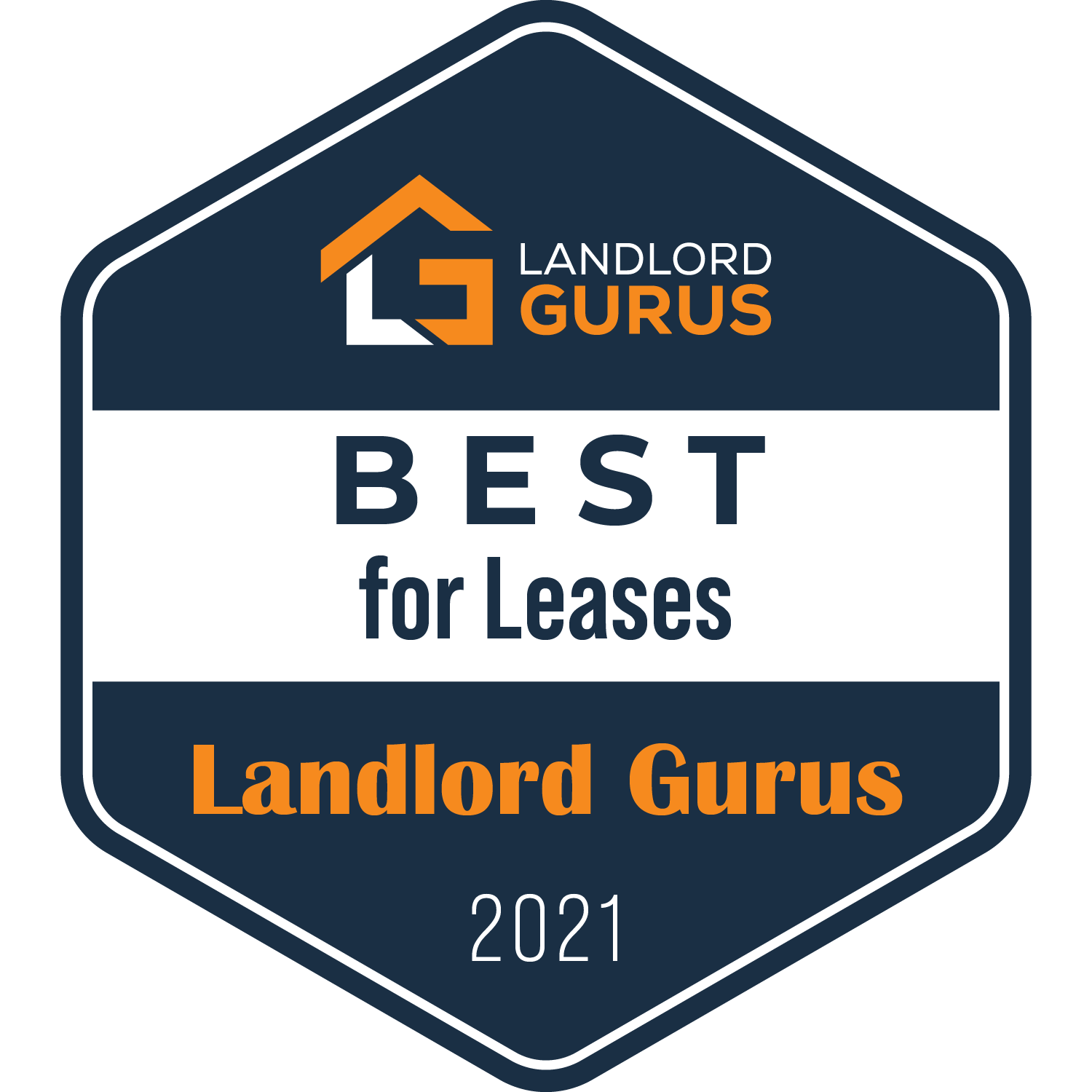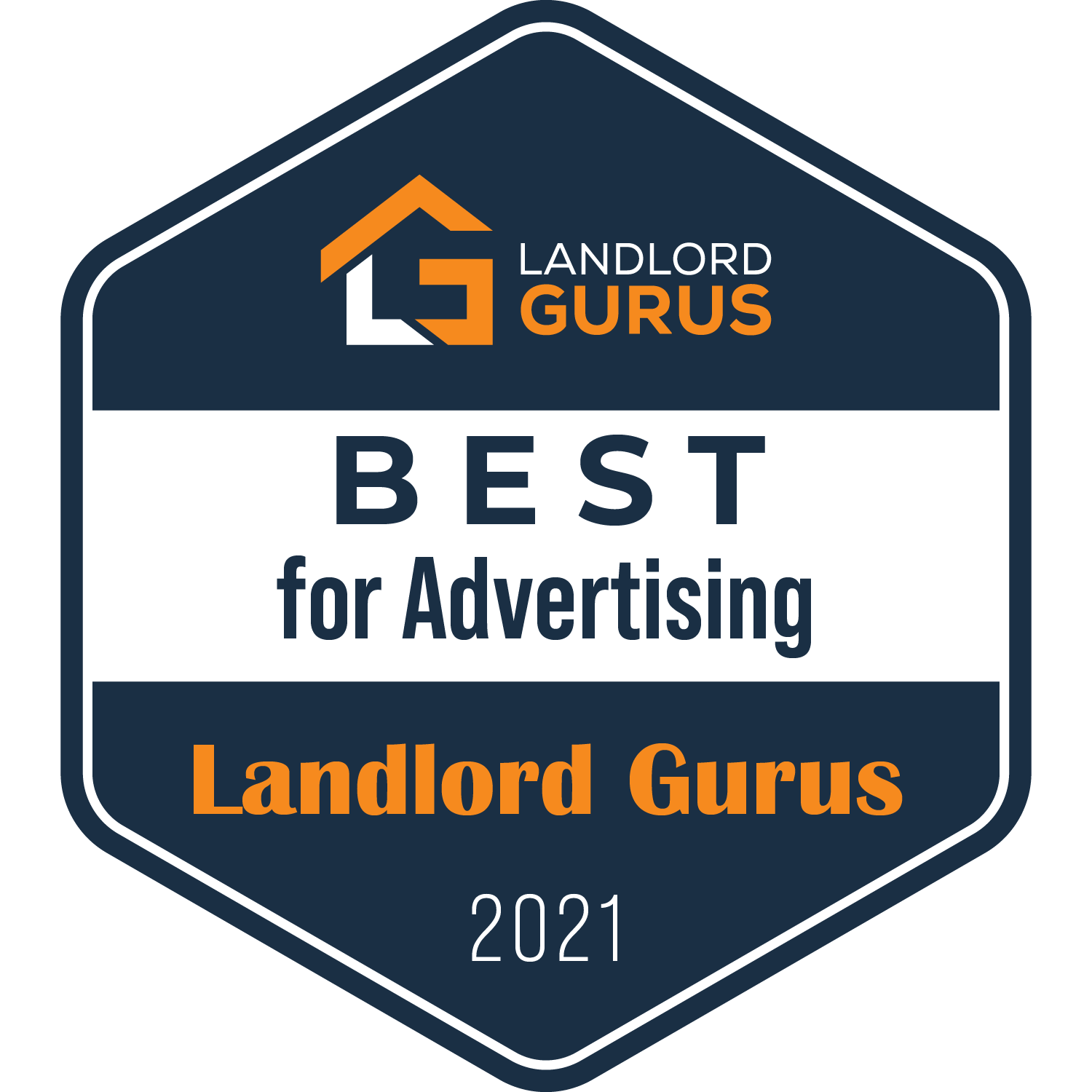 Listing on Craigslist
As I always do, I also listed my rental on Craigslist. In the past, I mainly listed my rentals here. However, over the past couple of years, leads from Craigslist have been substantially fewer, and usually have not resulted in tenants. This time has been the same. I have received only two inquiries so far, and none bothered to reply to my responses.
Overall Results
Here are my tabulated results after the first week of my rental being advertised on Apartments.com, Zillow Rental Manager, Avail, and Craigslist. Note: this table includes all results from 3 weeks of listings.
Platform
Leads
Scheduled
Showings
Completed
Showings
Applications
Zillow
19
7
5
0
Avail
12
1
1
0
Craigslist
7
1
0
0
Apartments.com
8
3
2
1
Takeaway
My decision to advertise on apartments.com proved to be a slow and frustrating process. Setting up my listing was not as smooth and easy as I would have expected. Pricing is not transparent at all, and we have encountered confusion and discrepancies when searching for information about features and costs, both on their website and from live agents.
Unfortunately, my listing was significantly delayed in getting published, and the listing does not appear as I would have liked. Finally, all this trouble has resulted in next to no interest in my apartment.
While Apartments.com may be a "legit" listing platform, it does not appear to be the best fit for landlords like me. I will continue to leave my listing up for now, and if I do eventually find a tenant who comes through this site, I will update this Apartments.com review. However, at this point, I would hesitate to use this service again for my next rental.
Update: While I eventually signed a lease with a tenant who found the listing on Apartments.com, it was not an easy process, as described earlier. Since Avail also syndicates listings to the Apartments.com platform and others as well, I may simply list my next rental there.
Alternatively, some landlords might consider off-loading some time-consuming property management tasks like this. In this case, I would consider some of the newer "hybrid" or "flat-fee" property management services we have been discussing lately such as Marble or Hemlane. Both offer services where landlords can outsource some or all of their least favorite tasks, while still maintaining control over their rentals.
Marble presents a happy medium between DIY management and hiring a professional property manager. For a reasonable flat fee Marble fills vacancies, executes leases, coordinates maintenance, and facilitates electronic rent collection.
Strength: Hybrid Full-Service Mgmt
Hemlane is a next-gen property management tool that helps property owners manage their rentals. More than simply property management software, Hemlane is a platform that bridges the gap between DIY and full service property management.
Strength: Hybrid Full-Service Mgmt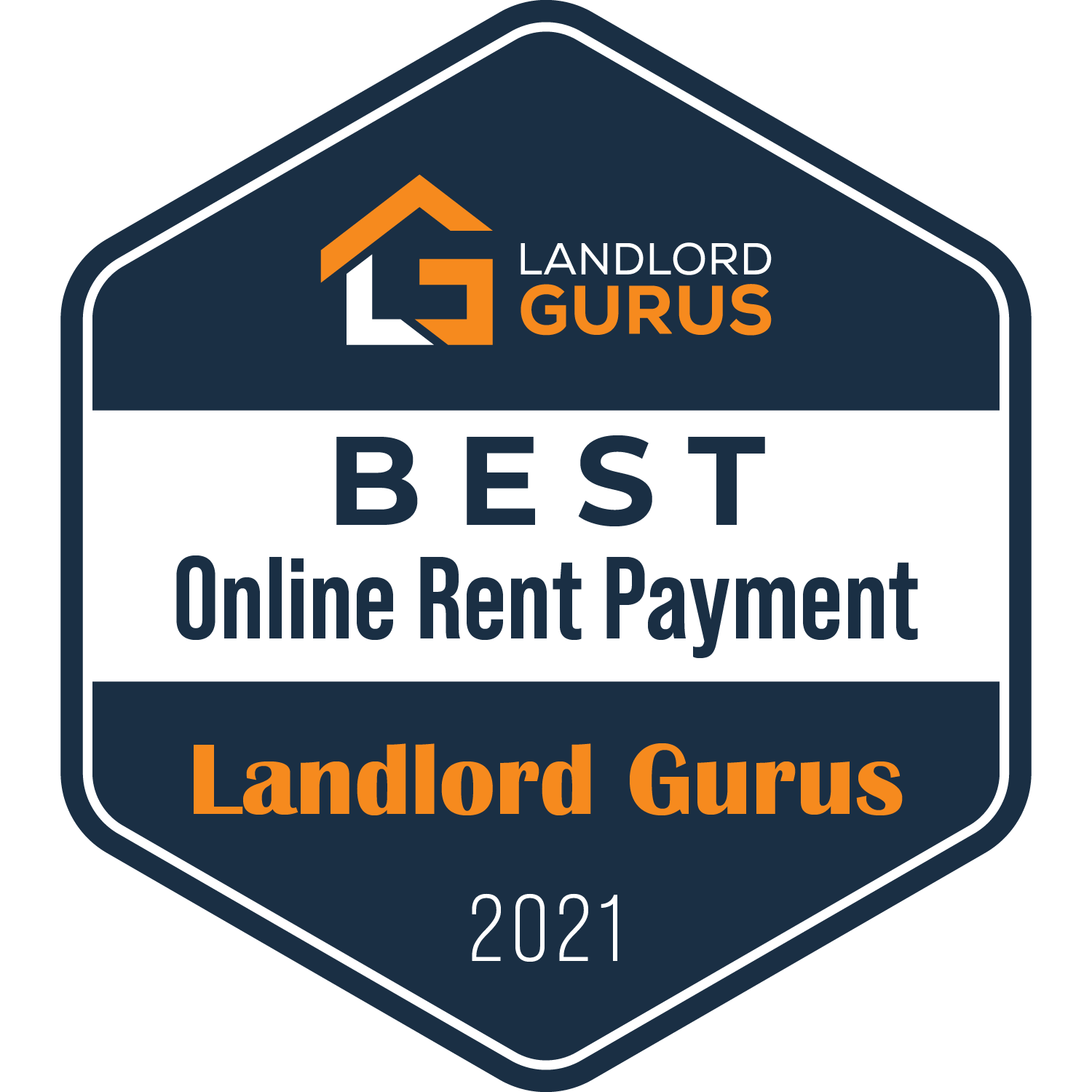 Disclosure: Some of the links in this post are affiliate links and Landlord Gurus may earn a commission. Our mission remains to provide valuable resources and information that helps landlords manage their rental properties efficiently and profitably. We link to these companies and their products because of their quality, not because of the commission.
Photo by Samuel Ryde on Unsplash