The sudden shift from in-person to virtual hit nearly every industry during the pandemic and residential real estate was no exception. This transition was particularly difficult for real estate professionals because much of the formula for finding your next home hinges on understanding the ambiance and energy of the space. Renters and buyers depend on this "vibe" to help visualize their life in the home and measure it against other options – 2D photos can only get them so far.
Property managers typically invest tons of money into amenity spaces and marketing to enhance and showcase their properties. With the real estate industry currently living online, the same effort needs to be put into capturing the experience and essence within your virtual materials. Failing to do so chips away at the value of your listings and ruins the viewer's holistic impression of the space, which we know is crucial to capturing attention and gaining interest. 
Here's how to transfer the vibe of an in-person visit to a digital environment for online apartment shoppers: 
Virtualize Your Inventory 
This might sound obvious but let's be clear, there's a huge difference between taking an iPhone video of a unit and making a fully interactive virtual tour of the space and building amenities. The following are some tips for virtualizing your inventory:
Brand the tour: Create high-definition images that are accompanied by your building's name and logo. The viewer isn't physically there, so you want them to associate every stunning view, walk-in closet, or in-unit washer and dryer with your building name. Those images will stick in their memory, so you'll want to make sure your branding is part of the experience.
Include amenities: The viewer is missing out on the big-reveal entrance experience and poking around the building. Capture the street view, lobby, rooftop, gym, pool, parking, and more. Not including this holistic view of the building hurts the chances of closing the deal. The amenities and location impact the interest level in the unit, so highlighting these are key.
Maximize exposure: You should be funneling traffic to this inventory as much as possible. For example, Peek has helped large property management companies in NYC broaden their reach with "peek lens." Location-aware QR codes are placed on building signage to turn foot traffic into leads. Simply scan the QR code on the building with a smartphone and all of the vacant units will appear in the browser.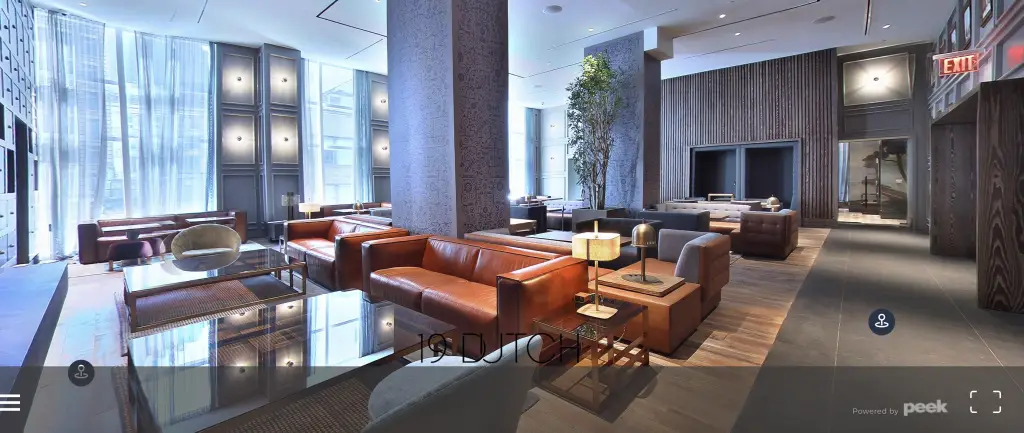 Get Creative
Once your inventory is virtualized, it's time to implement creative marketing tactics to catch attention and close deals. Chances are your target audience is spending time on a variety of social platforms every day, so you should aim to have a presence on as many as possible. The obvious should be utilized – Instagram, Facebook, and Snapchat – but there's also a huge opportunity to try out new platforms to host listings. 
Pinterest is often underutilized in real estate, but it can be a valuable tool to generate leads, improve online visibility, drive web traffic, and market your listings in an "out of the box" fashion. TikTok has also been gaining popularity with real estate agents; in fact, some New York City agents are building large followings on the platform, and sourcing most of their business from their TikTok pages! Using channels like Pinterest and TikTok is an effective way to reach the Millennial demographic.
Bringing your property into this virtual age effectively requires the inclusion of an overall brand voice and persona. If you haven't determined the best approach for this yet, consider your target audience and what will appeal to them most.  Is it a chic persona to fit your luxury listing in the Upper West Side of Manhattan or a laid-back persona to fit the cozy, community feel of the East Village? Depending on what persona you are trying to target, you can furnish a unit to sell the complete vibe. Pursuing young professionals? Appeal to work-from-home. Set up the unit with office space to allow the viewer to imagine what it would be like to work there. 
Sell the Community
With the decline in travel and public transportation, local appeal has never been more important. So, how do you capture what your community has to offer and help the viewer image their daily life living in your property? 
One way is to create blog posts about the area that you can then attach to listings. Is there a park close by that's perfect for taking the dog for a walk or having a picnic? Does the bar on the corner of the street do themed trivia nights once a week? Is the coffee shop two blocks over accommodating to those working remotely with socially distant workspaces? Things like this are significant to those trying to make a move in extremely uncertain times. It never hurts to bolster up the community and make it known what it has to offer. 
There's a community within the building you're renting, too! If possible, create video testimonials featuring unit renters and owners. Testimonials will allow viewers to identify with people who live in the building, which is something they miss out on when they don't get to take a look around and see who's hanging out in the lobby, socializing on the rooftop, or working out in the gym. 
Takeaway
The need for "stepping up" your digital footprint is only increasing in the residential real estate industry. While there's talk around temporary adaptation and the eventual return to normalcy, this change was already on the horizon. The pandemic has accelerated innovation and forced the more widespread and immediate adoption of PropTech. It's also opened the door for new creative ways to reach potential renters and buyers. As a property manager, you need to ask if you're best positioning yourself for the paradigm shift. If not, it's time to make some changes. Get proactive and don't fall behind the curve!
Mention the code: "GURUS" and receive $100 off your year subscription to Peek's Management PRO solution.
---
Also Read: Best Free Online Ways To Advertise Property For Rent
Disclosure: Some of the links in this post are affiliate links and Landlord Gurus may earn a commission. Our mission remains to provide valuable resources and information that helps landlords manage their rental properties efficiently and profitably. We link to these companies and their products because of their quality, not because of the commission.