Update: This post has been updated with new scoring and winners based on changes or upgrades to some of the products and services. We have also included new products that have come to our attention since the last update. Read on to see our winners for the best online rent payment service for 2023:
Property management software can be a useful tool for small and independent landlords to effectively run their businesses. We have written overviews of several top software products that offer solutions for a variety of standard property management tasks from advertising and applications to tenant screening, lease signing and rent collection. Here we compare how each of them handle online rent payment from a landlord's perspective. We compare them across a variety of factors and then determine the best online rent payment service for small landlords.
The Best Online Rent Payment Service – Our Top Picks
We considered the following rental property management software products for the best online rent payment service. Read below for our complete criteria for what you should look for when choosing the best rent collection apps and tools for you:
PayRent – Winner: Best Overall Online Rent Payment Service
Avail – Winner: Best Rent Payment Service with Complete Property Management Features
Baselane – Winner: Best for Integrating Rent Collection with Landlord Banking
Hemlane – Winner: Best Hybrid Property Management Platform
Rentec Direct – Winner: Full-Featured Software for Small Landlords or Property Managers Alike
Stessa – Winner: Best Portfolio Management and Accounting Software for Landlords
TurboTenant – Winner: All-in-one Rental Property Management Platform with Integrated Education
RentRedi – Complete Property Management App, Great for Landlords and Tenants on the Move
Azibo – End-to-end property management platform to manage your rentals -for free!
Innago – Free online property management platform, with great customer support for landlords.
Landlord Studio – Powerful all-in-one rental software solution that reduces paperwork and streamlines your bookkeeping.
DoorLoop – Rental Property Management Software Made Easy
Buildium – Best for larger landlords or landlords planning to grow their portfolios.
TenantCloud – Full-Featured property management platform to manage your rental business.
Collect Rent Online: The Best Rent Payment Systems
Each of these systems have features that allow landlords to collect rent online. Choosing best online rent payment service for you depends on a variety of factors that are most important to you. Below, we describe 5 key rent collection features that you should consider when choosing the right tool for your properties. We also include a bonus feature that your tenants may find useful.
PayRent is a product that focuses solely on online rent payment for landlords like us. With multiple plans starting at $0/month, landlords have access to a low-cost solution for collecting rent payments. Choose to pass-through transaction fees to your tenants, and your rent payment fees are $0 forever. Tenants will also receive rent reminders and can schedule automated payments in advance, helping to ensure on-time rent collection every month.
Additionally, PayRent offers a RentDefense feature with their paid packages: Payment controls and rent collection enforcement that help you collect rent with less hassle and stress that virtually eliminates late and lost rent. Landlords can also upgrade to a premium plan that promises just 1-day payment holds and free bank transfers.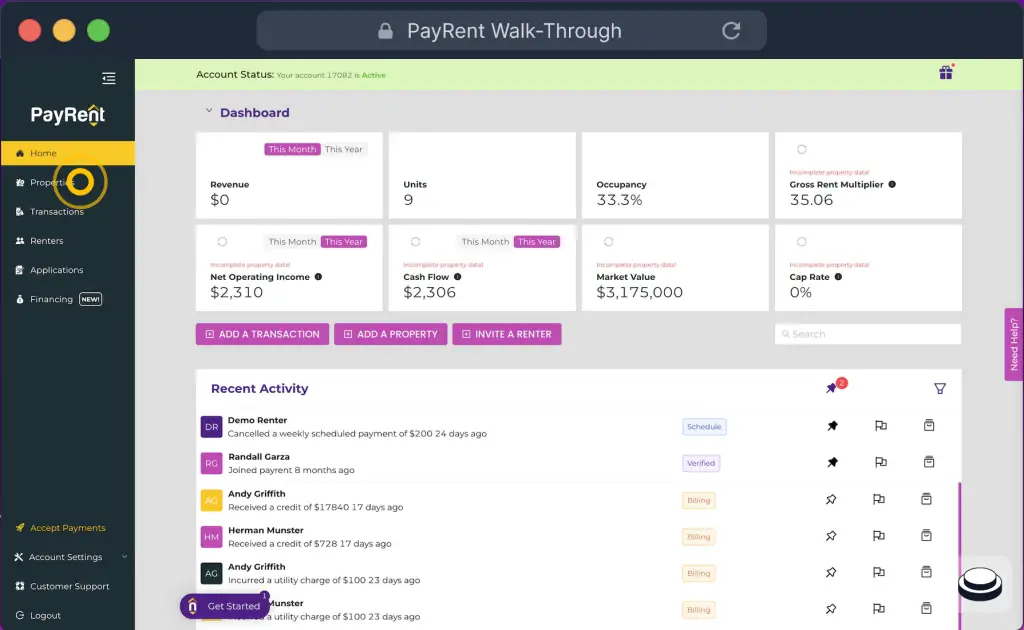 Payment Options: Your tenants will have a choice of either e-check or credit card payment methods. Add your tenants to the platform and PayRent will send out an email invitation for them to join the service then help them through the process of adding a payment method.
Recurring Payments: Working late or going on vacation shouldn't stop your tenants from making their online rent payment on time. Let them set up a one-time future payment, or weekly, semi-monthly or monthly recurring payments so you know your rent will be paid no matter where they are or how busy they may be.
Speed: PayRent can deposit your rent payments to any bank with branches in the United States, with a 3 day hold for users on the Pay-As-You-Go and DIY plans. This is expedited to a 1 day hold for their premium Go-Like-A-Pro subscribers.
Cost: PayRent offers 3 different plans as well. The free Pay-As-You-Go plan costs $5 per ACH transfer. The DIY plan costs $19 per month with $2 ACH transfers. And the Go-Like-A-Pro plan gives you free ACH transactions for a monthly subscription of $49.
Reporting: PayRent sends automated rent reminders to your renters which helps avoid last-minute confusion and stress. You will also receive instant email notification when rent is paid as well as full accounting and tracking of rent payments. There do not seem to be other reporting features that some of the other services offer.
Credit Agency Reporting: Landlords using PayRent to collect rent can use the credit reporting system to report rent payments to Equifax, Experian, and TransUnion. It reports both on-time payments and late payments for free. PayRent is the first company to report rent payments to all three credit bureaus.
If what you need is fast, secure, reliable online rent collection, PayRent is our winner for you. It is our Overall winner for the Best Online Rent Payment Service.
Get Started with PayRent for Free.
Avail is our winner for the best online rent payment in the property management software category. With next day FastPay ACH transfers included for Unlimited Plus subscribers and 2-day deposit times for all others, Avail offers a fast and convenient rent payment service. Furthermore, landlords do not need to be a paid subscriber to access Avail's online rent payment service. At $2.50 per transfer that your tenant can pay, a landlord has the opportunity to collect rent at no additional cost.
Payment Options: Tenants can pay however they want, from bank accounts or credit cards. They can also pay from any device that has access to the internet. Getting started is simple. Enter the rent amount and lease dates, your tenant's name and email, and Avail will handle the rest.
Recurring Payments: Tenants can turn on Autopay to schedule recurring online rent payments. They simply choose a date to withdraw the funds, and Avail will deposit the funds directly to your account. Landlords can also manually add custom payment dates if they want to create an installment schedule for their tenants.
Speed: Payments typically deposit directly to your bank in 3 business days, faster than a check and without the hassle of a trip to the bank. With a subscription to Avail's Unlimited Plus premium plan, next day "FastPay" payments are available to landlords at no additional cost.
Cost: Using Avail's free Unlimited plan, ACH transfers cost $2.50 per transaction. With the premium Unlimited Plus plan, landlords receive free ACH transfers. And under either plan, credit or debit card transactions are charged a 3.5% transaction fee. 
Reporting: Avail offers automatic reminder emails and built-in payment receipts. Late fees can be automatically assessed as well. Landlords have access to payment tracking and reporting, though integration with your accounting or bookkeeping software may be limited.
Credit Agency Reporting: Avail can report your tenants' on-time rent payments to Transunion with their CreditBoost service. Your tenants may see up to a 40 point increase in their credit score.
What makes Avail a winner is their best-in-class property management software solution. In addition to online rent collection features, a subscription to Avail gives you a complete set of tools, guidance, and educational content you need to be a confident and professional landlord.
Baselane is a rental property management tool that helps landlords and real estate investors save time and money while increasing their rental property returns.
Along with having one of the best bank account options for landlords, Baselane offers debit cards with smart controls that allow cardholders to control and manage their expenses. You can also integrate it with your bookkeeping, reporting, analytics, and rent collection tools.
Payment Options: Baselane provides tenants a platform to pay rent on any device. Simply set up your lease, invite your tenants, and get paid. Tenants can pay by ACH bank transfer or debit/credit card and can easily enroll in auto-pay.
Recurring Payments: Tenants can turn on Autopay to schedule recurring online rent payments or get reminders when rent is due. No more late fees.
Speed: Payments are deposited directly into your bank account, sometimes as fast as 2 days. You will also receive automated alerts once rent is paid.
Cost: Free ACH payments for both landlords and tenants. There is a 2.99% fee for debit and credit card payments.
Reporting: Baselane offers automated payment notifications & reminders, automated payment history and tracking, and automated late fee settings. There is also integration with a Baselane banking account or external banks and credit cards to stay on top of finances in one place.
Baselane is currently offering a $300 bonus:
Hemlane is a property management platform that helps property owners manage their rentals wherever they are. It is a cross between DIY and full service management that automates day-to-day administration, from advertising vacant properties to collecting rent and late fees. Because of its flexibility for landlords to choose how much control of the day-to-day operations of their rentals they retain, Hemlane is our winner for the best online rent payment service: hybrid property management platform.
For landlords who want complete freedom from the daily operations of their rentals, Hemlane can help you connect with local, in-person leasing agents and 24/7 repair coordination with local service professionals. You can also choose to maintain 100% control and automation with Hemlane's all-in-one online platform for leasing and management. Or select something in between where you have access to Hemlane's software plus repair coordination to allow you to sleep through the night without being woken up with a late night emergency.
Payment Options: Landlords can allow tenants to pay rent with a bank account only, or to have the option to pay with a bank account, credit or debit card. Landlords can choose to pay the 3% credit card transaction fee themselves or pass it directly to the tenant.
Recurring Payments: Hemlane allows owners to request payments using an online or offline payment requests. These requests can be configured for a one-time request (such as a security deposit) or recurring request (such as monthly rent). Tenants can then set up automatic payments for any recurring request. Hemlane provides flexibility to schedule for the due date or a prior date.
Speed: Hemlane's ACH payment processing generally takes 3 business days for paying customers with verified accounts. However, first transfers and free trial user payments generally take 5 business days and could take up to 10 to address risk.
Cost: There are no ACH transaction or set-up fees with a subscription to any of Hemlane's three plans.
Reporting: Payments are automatically recorded into Hemlane's robust financial reporting dashboard so you never lose track of payment records and receipts. Hemlane will automatically send requests for late fees, along with the choice of one-time or daily late fees, per the details specified in your lease. Hemlane also requires late fees to be paid prior to the rent, where allowed.
No matter which package you choose though, Hemlane offers landlords access to its robust online rent collection and financial tracking tools.
Rentec Direct includes all the tools for landlords to manage and rent your properties. This property management software includes your own custom rentals website, a complete accounting system, tenant screening, free online rent payments, online file management, and more
Rentec Direct makes it easy for tenants to pay rent using their credit card, debit card, or bank account. It's free to set up rent collection and to accept ACH payments. There is a 2.95% transaction fee for credit card payments, which you can pay or have your tenants pay. Normal 1 day funding is included with your Rentec Direct merchant services. You can upgrade to same day funding for $0.50 per transaction.
Payment Options: Rentec Direct makes it easy for tenants to pay rent using their credit card, debit card, or bank account. Renters who don't have access to traditional banking or get paid in cash may appreciate the option of paying their rent in cash. Tenants can make cash rental payments at one of over 20,000 locations that are part of the PayNearMe cash network.
Recurring Payments: You or your tenant can specify the frequency the rent payment should occur, either monthly or weekly, and on what day to process the transaction. Rentec EasyPay also supports one-time transactions. On the specified date, Rentec deducts the rent from the tenant's checking or savings account and after it clears a few days later forwards it to the property manager's account.
Speed: Rentec Direct offers the fastest ACH transfer of any of the online rent payment services we have reviewed. Funds are transmitted the day following the transaction. You can also get same day funding of ACH transactions for a fee of $0.50 per transaction.
Cost: ACH Payments free and included with your Rentec Pro or PM subscription. Credit card payments are billed at 2.95% of the transaction which is typically paid by the tenant. Cash payments through the PayNearMe cash payment network have a $200 setup cost, and tenants pay $3.99 per transaction. There is no monthly cost, but a minimum of 10 payments per month is required.
Reporting: Both packages from Rentec Direct include financial tracking and reporting options. You can also connect your Rentec account with your bank to download and sync your online rent receipts into Quickbooks. Rentec Direct also offers a variety of specialized property and owner reports you can email, print, download or export.
Credit Agency Reporting: You can give your tenants a simple way to build their credit history and improve their credit score using Rentec Direct's built in integration with RentReporters. This will automatically report your tenant's rent payments to the credit bureaus which improves their credit score while simultaneously providing incentive to pay rent on time.
Get started with Rentec Direct by taking advantage of a free two-week trial.
Stessa is a smart money management platform that helps landlords and real estate investors optimize their portfolios for performance. You can easily collect rent online and automatically integrate payments into your income and expense tracking, personalized reporting, and more.
Stessa has also recently introduced all-in-one money management with a Stessa Checking account, making it even easier to integrate banking with your online rent collection and other property management tools.
You will need to set up a Stessa cash management account in order to collect rent. You will also need an active lease and your tenant's email address. Set up the balance due and they will send your tenant an email invitation to start paying rent through Stessa.
Payment Options: Tenants can pay through ACH payments with no additional fees. Credit card payments are not supported at this time. Options for additional payment methods are coming soon. And tenants can still make paper check deposits through the mobile app.
Recurring Payments: Tenants have the option to make a one-time payment or set up recurring payments. Stessa will automatically send a reminder email to your tenant every month, 10 days in advance of the rent payment due date. Another payment request will go out on the due date showing the current balance due alongside a link to make the payment.
Speed: As a landlord, you can expect to see funds available in your Stessa checking account within 3-5 business days.
Cost: Stessa is 100% free, as are ACH rent payments.
Reporting: Stessa makes it easy to keep track of property performance, finances and the paper trail that comes with real estate investing all in one place. Stessa also automatically sends reminders and deposit notices so nothing slips through the cracks.
Sign Up For a Free Stessa Account
TurboTenant is online property management software that empowers independent landlords to:
Advertise Vacant Units
Track Leads Automatically
Accept Online Applications
Screen Tenants
Create Lease Agreements
Collect Rent
Complete Rental Property Accounting
TurboTenant's secure rent collection tool was created exclusively to meet landlords needs. Renters and landlords alike don't have to worry about security when it comes to TurboTenant since they partner with industry leaders Stripe and Plaid to ensure everyone's information stays safe.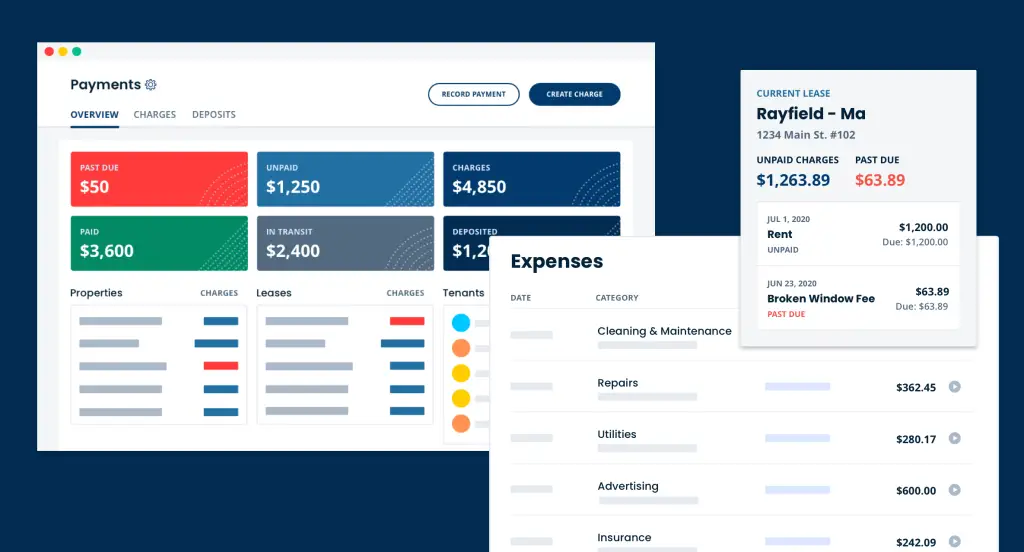 Payment Options: Tenants can pay via ACH or credit/debit card.
Recurring Payments: Landlords can set up automatic late fees or turn on automatic payments for their tenants. With email reminders and automated technology, forgetful tenants are prompted to pay on time. And if they don't, TurboTenant will let you know.
Speed: ACH Payments on average take 5-7 business days to be deposited into your bank. TurboTenanat offers expedited ACH processing with their premium subscription plan, decreasing the time to approximately 3 business days.
Cost: TurboTenant offers both a free and premium subscription. Under both plans, landlords have access to Autopay, Auto Late Fees, Rent Reporting, and Payments Dashboard features. ACH payments are free to both landlords and tenants. Tenants will incur a 3.49% convenience fee if they choose to pay with a credit or debit card. With a premium subscription starting at $99/year, landlords can get expedited rent payouts among other benefits.
Reporting: TurboTenant's payments dashboard makes it easy to understand which tenants are completely paid up vs. those who owe money (and how much). It also shows how property expenses stack up against rent payments on an annual basis. Additionally, TurboTenant's recent integration with REI Hub was tailor-made for landlords and their accounts. Rent collection data flows automatically into REI Hub's system, meaning landlords can get straight to the reports they need faster than ever before, for just $15/month for the first property (and $5/month/property after that). Regardless of the number of units, users will not pay more than $85/month for this extraordinary tool.
Credit Agency Reporting: TurboTenant offers rent reporting to build tenants' credit history when they pay rent online. Once Rent Reporting is activated, TurboTenant will automatically report your tenants' on-time rent payments to TransUnion for free, helping them improve their credit scores.
Collect Rent Online – Sign Up for TurboTenant Free
RentRedi is a landlord-tenant app that allows you to manage vacancies, screen tenants, and collect payment from wherever you are, on any device. RentRedi's mobile deposit feature makes it easy for tenants to pay their monthly rent on time. There is an option for automatic payments that will also send rent reminders. If a tenant falls behind on rent, they will incur an automatic late fee with a recurring fee amount.
Payment Options: RentRedi allows payment from a banking account, credit card, or ACH. They also allow tenants the option of depositing cash at over 90,000 retail locations through RentRedi's partnership with Chime.
Recurring Payments: Tenants can choose to enable auto-pay and schedule recurring rent payments for the same date each month.
Speed: Landlords will receive payment from tenants in as quick as four to five business days after payment account approval.
Cost: There is a $1.00 processing fee for ACH payments, which tenants will pay. There is also an option to make payments through a credit card, though a 2.9 percent plus $0.30 fee will incur. If you prefer, you can cover the fees instead of passing them onto your tenant. 
Reporting: RentRedi allows you to set up automatic late fees and directly export rent payments to spreadsheets or Quickbooks Online. You can also send in-app notifications by unit, property, or to all tenants.
Credit Agency Reporting: With RentRedi, you can reward and encourage on-time rent payments with their credit boost feature which reports rent to credit bureaus.
Azibo is an easy-to-use rental property management tool that allows you to receive online rental applications, screen tenants, collect rent (credit card, ACH, or debit card payments), and manage accounting with rental-focused tax prep tools and reporting. Along with all these features, it also offers a landlord-centric bank account with zero monthly fees.
Online rent collection is one of Azibo's core features that is free to use. You can get paid automatically on Azibo via credit card, debit card, and ACH. Azibo also allows you to:
Receive your rent payments within 3 business days.
Instantly see the rent payment status of your residents.
Send reminders via email and SMS to whoever needs to pay rent soon.
Allow your residents to make partial rent payments – nor not.
Automate late fee enforcement that are customizable based on your lease terms.
Easy security deposit tracking – both collecting and returning at the end of the lease.
Get alerted automatically about uncollected payments.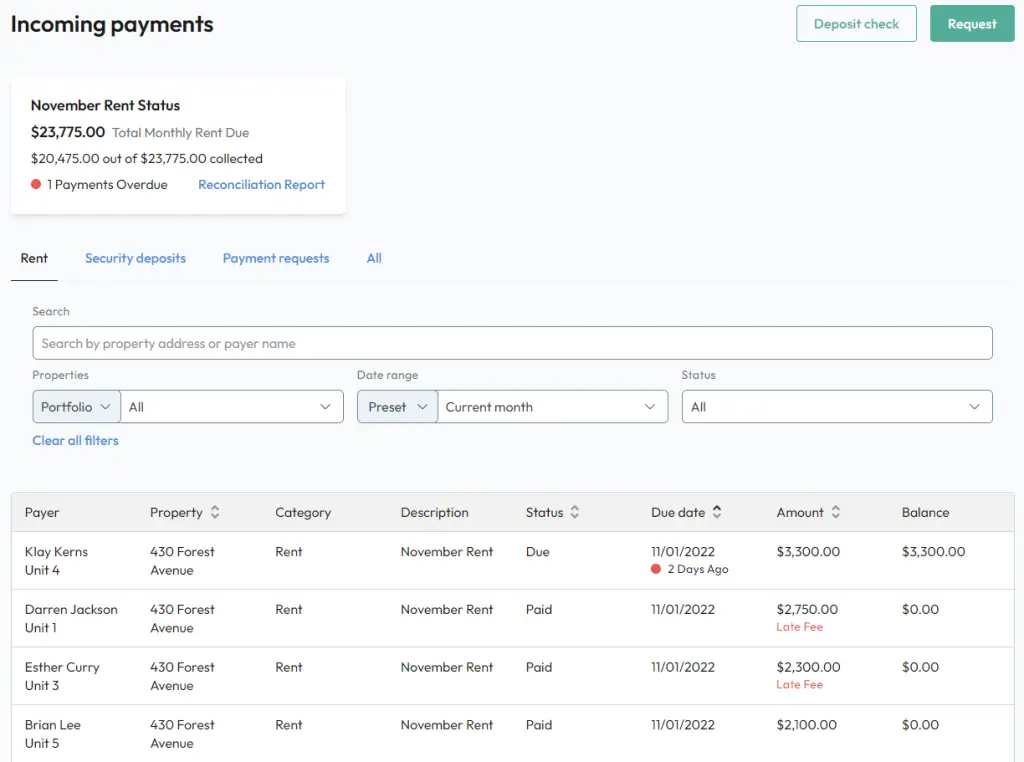 Payment Options: Securely accept multiple payment methods online including credit card, debit card, and ACH bank transfer. Simply add your properties and open an Azibo bank account or link your existing bank account. Then invite your tenants to join Azibo and start collecting online rent payments.
What stands out with Azibo is the ability to turn on or off partial payments. While we recommend not accepting partial payments since it makes potential eviction proceedings more difficult, you can choose to enable them for a special circumstance and then disable them again going forward.
Recurring Payments: Tenants can set up AutoPay to make sure that they never miss a rent payment. They would simply switch the toggle on and adjust the auto-pay settings. They can edit these autopay settings at any point. 
Speed: Azibo processes payments within 3 business days, similar to best rent collection platforms.
Cost: ACH payments are free, or your tenant can use a debit or credit card (2.99% convenience fee).
Reporting: Azibo has a rent dashboard that helps you view tenant payments in one place so you can instantly see who paid and who hasn't. If you choose, late fees will be included with the rent invoice amount and can be waived manually at any point. You can also reconcile your payments by downloading a spreadsheet with a breakdown of all payments made to you on Azibo within a selected time period.
Innago is a free property management tool that helps landlords and property owners manage almost every aspect of their rentals – advertising rental properties, screening tenants, collecting rent and late fees, and streamlining communication with tenants and maintenance contractors.
Innago offers access to full email and phone help at no additional cost. They also host webinars to help new landlords through the setup process and offers one-on-one demos by request. The platform assigns a representative to every account to ensure customers get personalized service. Landlords receive the representative's email and contact information. 
Innago's online rent payment system enables you to receive your income faster with on-time collection, transparent payment tracking, and safe and secure data transmission.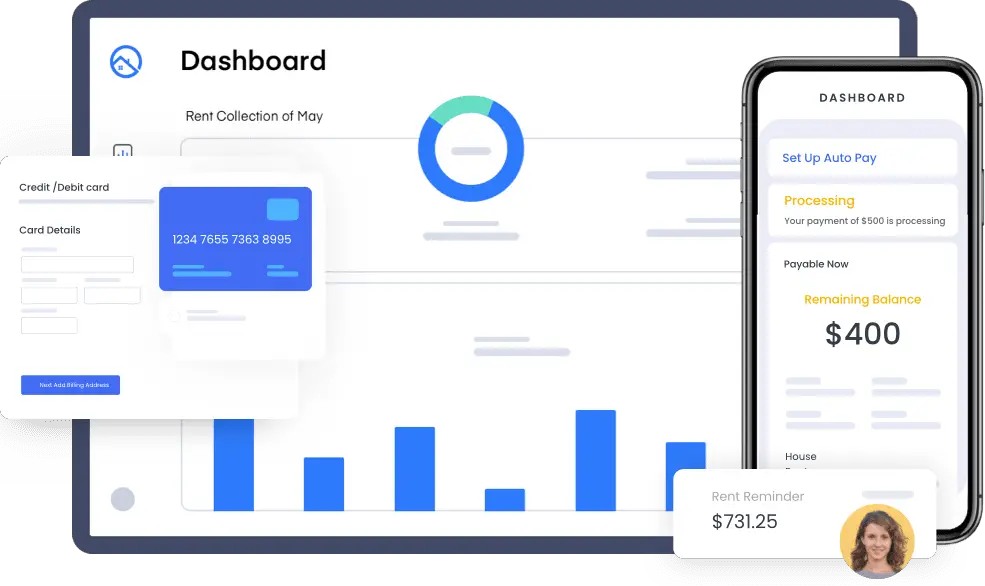 Payment Options: Your tenants can pay their rent with the payment method they prefer: They can connect their checking or savings account or pay with a debit or credit card. They can also pay on desktop or mobile app.
Recurring Payments: Tenants can sign up for automated rent payment, resulting in fewer tenants forgetting to pay and more rental payments coming in on time. Tenants receive automatic reminders and notifications when rent is due. A convenient "pay now" button in the email makes submitting payments easy, with just a simple click. You can also customize the frequency for automated invoices. Charge your tenants monthly, weekly, or any other payment interval you agree upon.
Speed: Get your money in one business day, completely free, with no charges for expedited payments.
Cost: Rent collection is free for landlords, while tenants are charged $2 per ACH payment and 2.75% for credit and debit card transactions. You can incur the $2 ACH fee yourself if you prefer.
Reporting: You can automate late fee enforcement with custom settings. Innago offers the flexibility to charge based on percentage, or flat fees, single or repeating charges, or even a combination of all of them. Reports are clean, simple, and easy to understand. Easily export all financial records into Excel and most other financial programs. Download data as a backup, print results for partners and owners, or share with your accountant at year end.​
Get Started with Innago for Free.
Simplify every aspect of rental property management with Landlord Studio's easy-to-use app that helps you keep track of your rental income and expenses and maximize the return on your investments. Say goodbye to complicated spreadsheets and piles of paper receipts. Landlord Studio helps automate tasks, master your income and expense tracking, and stay organized throughout the tax year.
You can now use Landlord Studio to collect rent online safely and securely. Tenants can transfer rent payments directly to your bank account quickly and easily. Together with Landlord Studio's other accounting and reporting features, automating and tracking your income has never been easier or more accurate.
Payment Options: Tenants will receive an email with a unique one-time link to get started. They simply need to follow this link, set up their account, and then they can log in at any time to pay.
Recurring Payments: Once your tenant has created their account they can turn on auto-pay and set the payment to be made the same time each month. You can set automated rent reminders for overdue rent and automatically apply late fees.
Speed: It currently takes between 3-5 days for payments to be processed and funds to be received into your account. However, Landlord Studio is looking into options for same-day transfers in the future. Check back for updates.
Cost: Online rent collection pricing is included in all plans and costs just $2.50 / transaction. This can be charged to the tenant or paid by the landlord.
Reporting: This is where Landlord Studio shines. Landlords can integrate their bank accounts and get automatic income reconciliation. With online rent collection, you can fully automate your income tracking and rent payments. Landlord Studio will tie into your leases and accounting software, and provides automated rent reminders, late fees, and more.
Start using Landlord Studio for Free
DoorLoop is a powerful all-in-one property management software that is easy to use and stands out from many of the other options on the market. It offers unlimited support, full-scale accounting functionality, and a complete suite of useful features from listing, leasing, rent collection, maintenance, tenant communication and more. This is a fantastic option for landlords and property managers looking to streamline their workloads, save time, and grow their business. 
Online payments are secure 256-bit military-grade encryption. Your tenants' rent payments are encrypted and secured with PCI compliance as they are submitted directly to the credit card processor (powered by Payrix) and never pass through DoorLoop's servers. Furthermore, you never need to share your account or routing number. Your tenants will fill out a form online with their credit card or bank details, authorizing you and RapidRent to automatically charge them for rent.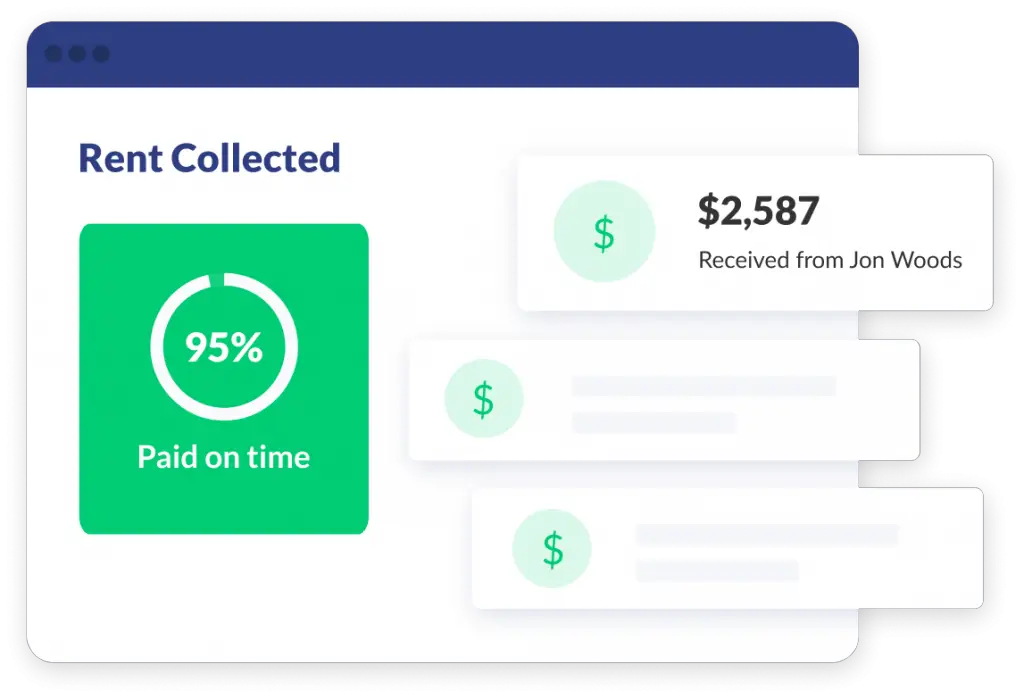 Payment Options: You can get paid automatically on DoorLoop via credit card, debit card, and ACH using RapidRent, powered by Payrix.
Recurring Payments: Send automated payment reminders to your tenants before rent is due so that you always get paid on time
Speed: For security and fraud prevention, your first payment will be deposited into your bank account after 10 business days. After that initial payment, any future credit card or ACH payments normally take up to 3 business days to enter your bank account.
Cost: There is a one-time, non-refundable $49 fee per bank account to start accepting online payments, which covers the cost of application processing, underwriting, and account setup. You will not be charged if your merchant application is denied. Tenants are charged 2.95% of the amount for online debit or credit card payments, or a flat fee of $1.99 for ACH payments (or $0 if you are on the Premium plan)
Reporting: Late fees are added to every lease automatically at intervals and deadlines of your choosing. See how much each tenant paid or owes instantly. DoorLoop will send alerts automatically about uncollected payments, upcoming lease renewals, and more.
Sign up for a demo of DoorLoop and get 50% off your first two months.
Buildium is a simple-to-use, unified property management system for landlords and property managers. Due to the higher costs associated with Buildium's subscription plans, we feel Buildium is best suited for larger landlords and community association managers. But that doesn't mean it can't help you, though. If you have several properties or are looking to buy more in the near future, Buildium might be the right software to help you grow your business. 
Payment Options: Tenants authorize their bank accounts or credit cards to make online rent payments. Together with PayNearMe, Buildium also lets residents make cash payments at over 20,000 locations nationwide.
Recurring Payments: Tenants can set up recurring online rent payments schedule and can choose from a multitude of frequency options including one-time, every month, every two weeks, daily, and more.
Speed: Online rent payments using EFT/eCheck or credit card will be deposited into your back account 2 business days after the resident makes a payment through Buildium. Landlords can request faster EFT deposits for a small fee between $1.00-1.45 per transaction. Money from completed PayNearMe transactions will be deposited into your bank account within 5 business days without any risk of reversal.
Cost: You must have a subscription to one of Buildium's paid plans, starting from $52/month for the Essential plan, $166/month for the Growth plan, and $479 for the Premium plan. With the Growth and Premium plans, incoming EFT payments are free, and $1 under the Essential plan. Credit card payments are charged 2.95% with all plans. Additionally, you can link 5 bank accounts for free with the Growth and Premium plans. Additional bank accounts are charged a $99 setup fee each, as are all bank accounts with the Essential plan.
Reporting: When a resident has a one-time or recurring payment scheduled, they will receive an email seven days in advance notifying them of this upcoming payment. Completed transactions will automatically post to your Buildium account within minutes — no manual entry required. As a result, landlords spend less collecting, depositing, and logging cash payments.
You can sign up for a 14-day free trial of Buildium and see if it's right for your business. 
TenantCloud is a cloud service that allows you to manage both your rentals and tenants. Their platform allows you to do a plethora of things on top of payment collection – including tracking your properties, posting listings, and conducting screenings – all completely free. Starting at $0/month, landlords have the option to try TenantCloud for free. However, there are three other paid subscription tiers that come with additional features. 
Payment Options: TenantCloud accepts payment from ACH, banking account, debit card, and credit card.
Recurring Payments: Tenants can set up auto pay, a recurring monthly payment that allows funds to be automatically sent from their bank account on a scheduled date.
Speed: ACH transactions usually take 3–4 business days to complete and show in your "TCBalance" account. Withdrawals to your bank account take another 1-2 business days, longer if they are over a weekend or holiday. There is no expedited option.
Cost: Tenants can pay using a debit or credit card and will be charged a percentage-based fee. TenantCloud also offers payment through direct bank deposits and fees vary by subscription tier. The fee is $2.95 with the Free plan, $1.50 with the Starter plan, $1.25 with the Growth plan, and a smaller custom price for Business plans. If preferred, landlords can cover these fees instead.
Reporting: To ensure that your tenants are paying rent on the due date, TenantCloud allows you to set up a grace period and late fees. You can choose between a one-time late fee or daily late fees, or both. TenantCloud also automatically generates invoices, late fees, and receipts so that you don't have to do it manually.
Credit Agency Reporting: TenantCloud works with TransUnion and Equifax to report your tenants' rent payments to the credit bureaus. This will help your renters build their credit history and boost credit scores.
Choosing the Best Online Rent Payment Service: Things to Consider
These are the 5 key rent collection features we considered when determining our top online rent payment service recommendations. We also include a bonus feature that your tenants may find useful. When looking for the rent collection software that is best suited for you, take a look at how each service handles the following tasks.
Takeaway
We have reviewed several of the top online rent payment services that can meet the needs of independent landlords no matter the number of properties you manage. While some services are part of a property management software product that includes a variety of features, others may only offer rent collection if that is of most importance to you. We encourage you take a close look at the above selections for the best online rent payment service. You can also see our landlord toolkit to see which ones we have in our arsenal.
Video Extra – Collecting Rent Online:
Disclosure: Some of the links in this post are affiliate links and Landlord Gurus may earn a commission. Our mission remains to provide valuable resources and information that helps landlords manage their rental properties efficiently and profitably. We link to these companies and their products because of their quality, not because of the commission.