Many people become landlords to create a passive income stream, so giving 10% of their monthly rental by hiring a property manager largely defeats their goals. Instead, they're much better served by leveraging a property management tool that can support every aspect of their rental business, from marketing a vacant unit to collecting rent.
Not all property management tools are created equal, however. Some lack insight into what landlords really need and make platforms that don't quite hit the mark.
Over 450,000 landlords have chosen TurboTenant to save time, money, and stress. TurboTenant enables landlords to manage their rental property business from one easy-to-use platform, for free.
In this TurboTenant review, we provide an overview of the property management software to determine whether a real estate investor or landlord like yourself can streamline your business using their tools.

What is TurboTenant? An Overview of the Landlord Software
TurboTenant is online property management software that empowers independent landlords to:
Advertise Vacant Units. In just a few clicks, you can build one professional listing and send it to dozens of listing sites, including Apartments.com, Redfin, and Rent.com.
Track Leads Automatically. TurboTenant's platform organizes your leads for you, making it easy to contact prospective tenants.
Accept Online Applications. All TurboTenant applications include industry-standard questions, a TransUnion screening report, and the option to add customized questions.
Screen Tenants. In less than five minutes, landlords can request credit, criminal background, and eviction checks to vet applicants. Landlords enrolled in TurboTenant's Premium plan can also access Income Insights, a service that cross-references TransUnion data and applicants' self-reported income.
Create Lease Agreements. Reviewed by lawyers annually, TurboTenant's lease agreement tool guides landlords through the customization process in 15 minutes or less. Individual lease agreements cost $39, or landlords can opt into the Premium subscription and enjoy unlimited leases and addendums, among many other perks.
Collect Rent. Track payments, automatically remind tenants when rent is due, and allow them to put payments on autopay with TurboTenant's online rent collection system.
Complete Rental Property Accounting. Access a comprehensive, integrated accounting tool that syncs directly with your TurboTenant account.
TurboTenant Features and Benefits
TurboTenant offers several additional features that make landlording easier than ever. Below, we'll explore their features in more depth and explain how they simplify self-managing your rental business.
Rental Advertising
TurboTenant landlords average 28 leads per rental listing, and that can largely be attributed to the 50+ syndication partners in the platform's network. Landlords can build one listing and blast it across the internet, reaching more listing sites than any other property management platform. TurboTenant also provides an automatic pre-screening questionnaire to vet leads as they indicate interest in a vacant unit so that the landlord can spend less time dealing with applicants who just aren't the right fit.

Looking to take your advertising offline? TurboTenant offers For Rent yard signs with a custom QR code to increase the number of inquiries from locals in your area.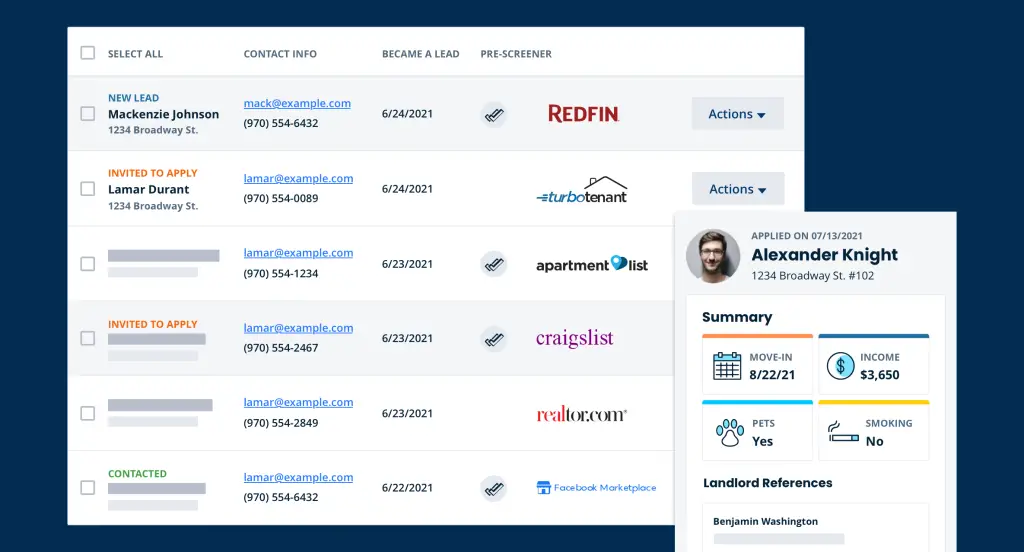 Online Applications
TurboTenant's rental applications are secure, convenient, and mobile-friendly. Once the prospective tenant is invited to apply, they'll select whether they're applying to the unit as a tenant or a co-signer. From there, they enter basic contact information including their name, date of birth, email address, phone number, and emergency contact.
TurboTenant then asks the applicant for their housing history and previous landlords. The platform will even automatically reach out to former landlords via email to request a reference on the applicant's behalf. Once everything is received, the landlord will receive a notification that the reference information has been added to the online application.
Landlords can choose to customize their tenant application form if they have specific questions they'd like potential renters to answer as part of their screening process.
Tenant Screening
TurboTenant makes it easy and straightforward to run a tenant credit report, background check, and eviction check, even for the uninitiated. Landlords can learn all about their prospective tenants in three quick steps:
Enter the prospective tenant's email address.
TurboTenant verifies their identity.
The landlord receives the tenant screening report
The tenant screening report shows the renter's credit score, lines of credit, credit inquiries, debt in collections, criminal record, and past evictions (as permissible by the state). For extra security, consider becoming a Premium landlord and using TurboTenant's Income Insights feature to double-check reported income against TransUnion's data.
State-Specific Lease Agreements
Why settle for a generic lease when TurboTenant's legal team has crafted documents for every U.S. state? Their residential lease agreement templates include all of the provisions landlords must follow to stay compliant with their local landlord-tenant laws. To streamline the process, the landlord only needs to fill out the standard information along with any unique details of their rental unit, including: 
Lease specifics
Rent, deposit, and fees
People on the lease
Pets, smoking, and insurance requirements
Utilities, keys, and services
Once the lease is created, it's time to collect signatures. Landlords can seamlessly send their leases out to collect electronic signatures at no additional cost. Once signed, the binding contract will be securely stored in the landlord's TurboTenant account.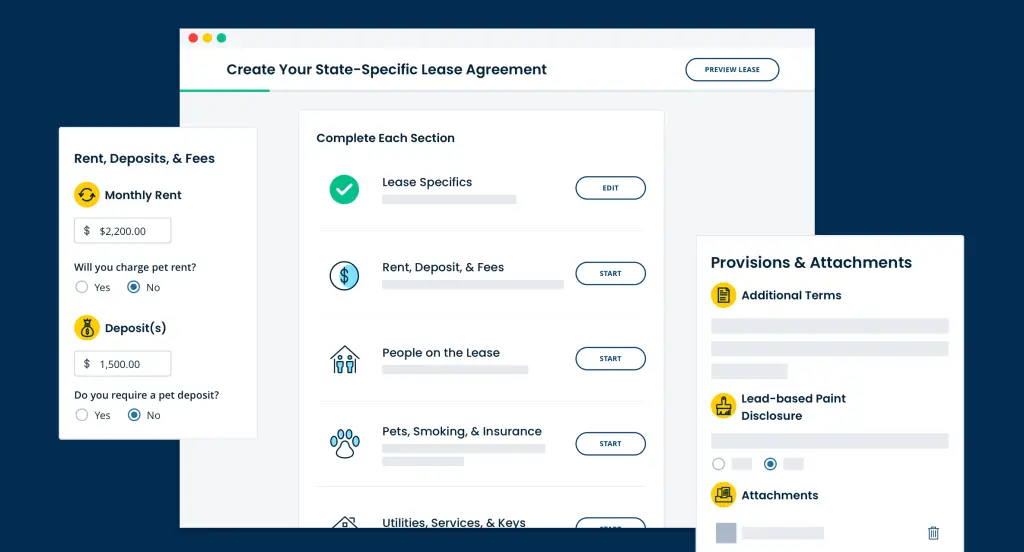 Online Rent Collection
Unlike Zelle or Venmo, TurboTenant's secure rent collection tool was created exclusively to meet landlords' needs. Their system comes with:
Recurring Charges and Automatic Reminders: Landlords can set up automatic late fees or turn on automatic payments for their tenants. With email reminders and automated technology, forgetful tenants are prompted to pay on time. And if they don't, TurboTenant will let you know.
A Full View of Your Payments: The platform's newly refreshed Payments Dashboard makes it easier than ever to understand which tenants are completely paid up vs. those who owe money (and how much). It also shows how property expenses stack up against rent payments on an annual basis.
Best in Class Security: Renters and landlords alike don't have to worry about security when it comes to TurboTenant since they partner with industry leaders Stripe and Plaid to ensure everyone's information stays safe.
Tenants can pay via ACH or credit/debit card. Additionally, TurboTenant offers rent reporting to build tenants' credit history when they pay rent online.
Lastly, TurboTenant's recent integration with REI Hub was tailor-made for landlords and their accounts. Rent collection data flows automatically into REI Hub's system, meaning landlords can get straight to the reports they need faster than ever before, for just $15/month for the first property (and $5/month/property after that). Regardless of the number of units, users will not pay more than $85/month for this extraordinary tool.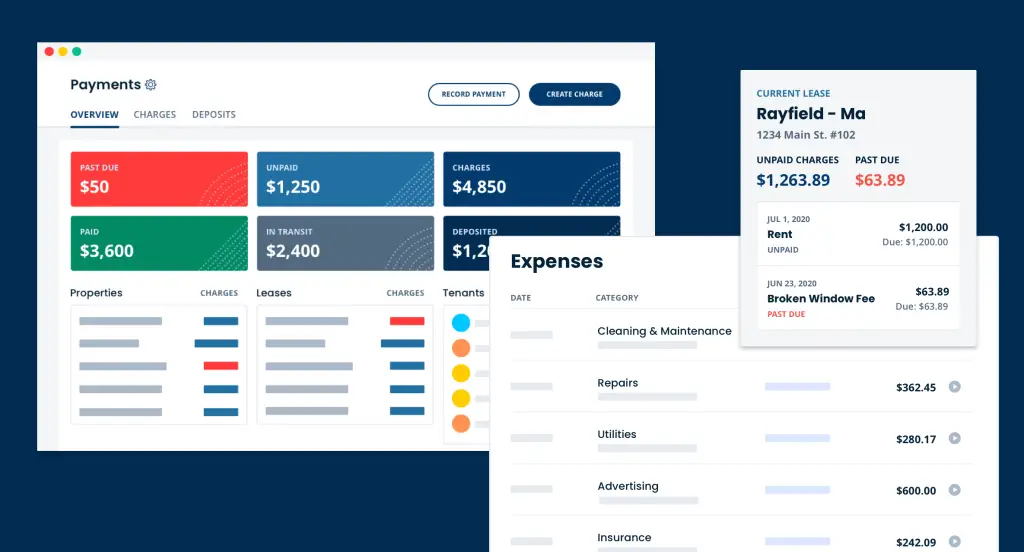 Tenant Management
TurboTenant firmly believes that the landlord-tenant relationship is critical to long-term property management success. That's why their platform offers:
In-app Messaging: Landlords can keep their phone number private without cutting off communication by chatting directly through TurboTenant.
Renters Insurance: Tenants can upload proof of their current policy or purchase an affordable one through TurboTenant's trusted partner.
Maintenance Requests: Tenants can easily relay issues through TurboTenant, which creates a record of all maintenance performed on the property. 
Tenant-specific Portals: Tenants create their own TurboTenant account so they can pay rent, submit requests, and communicate with their landlord in one place. 
Free Educational Resources
TurboTenant is also dedicated to creating free educational content, such as blogs and monthly webinars, to help landlords make the most of their rental property business. TurboTenant publishes at least one blog every week, a webinar once a month, and an onboarding session bimonthly. 
Pricing
TurboTenant is free for landlords, but the platform offers a paid-tier plan with additional features. For a side-by-side comparison of Free vs. Premium features and pricing, visit this pricing page.
Free for Landlords:
Free rent collection
Rental advertising
Lead management
Rental applications
Tenant screening
Automated reference checks
ACH Rent payment collection
Expense tracking
Maintenance requests
In-platform messaging
Document management
Chat support
A La Carte Options
Integrated landlord accounting: $15/month for the first property and $5/month/property for subsequent properties, capped at $85/month
Lease creation: $39
Ultimate landlord forms pack, including lease addendums: $145
Tenants
Credit/debit card payments: 3.49% convenience fee
Rental application and screening report: $55
Learn More About TurboTenant's Rental Property Management Software
All-in-one landlord software like TurboTenant empowers independent landlords through its easy-to-use platform, helping them save time and money without charging a dime. 
Given their extensive services and free price point, we believe TurboTenant is an excellent choice for landlords looking to streamline their property management business. Learn more or sign up here.
Disclosure: Some of the links in this post are affiliate links and Landlord Gurus may earn a commission. Our mission remains to provide valuable resources and information that helps landlords manage their rental properties efficiently and profitably. We link to these companies and their products because of their quality, not because of the commission.