If you're a landlord who's just getting started on your software search, the best thing to do is to look for a platform that's comprehensive without being overwhelming. After all, what good is sophisticated software if it's impossible to use? Your ideal platform should be powerful enough to go beyond your expectations, but also user-friendly enough for you to efficiently execute all its capabilities. 
For many landlords or real estate investors, a management platform that allows them to choose which services they need is the smarter choice.  There are a few of these platforms out there, and Azibo is one of them that always seems to top other lists out there. 
Today, we're taking a closer look at Azibo's landlord management platform, deep-diving into its features, integrations, and characteristics so that you can decide for yourself whether it's right for you and your business. Let's get started. 
Pricing
Azibo's core features are free to use. Complementing these core features are additional services that can be purchased.
Free Core Features
Online rental application
Tenant screening*
Online rent collection platform accepting credit card, ACH, debit card payments
Landlord-centric bank account w/ zero monthly fees
Rental-focused accounting & tax prep tools including Schedule E, rent roll, income and cash flow statements
*While online rental applications are free, tenant screenings are a paid feature. However, it's important to note that it doesn't cost landlords anything to initiate these screenings.
Additional paid features:
Custom state-specific lease agreements, available as a bundled solution for both the creation of the lease and e-signature
Tenant Screenings
Landlord insurance
Renters insurance
You can view a full breakdown of Azibo's pricing by visiting their pricing page here.
Ease of Use
As a self-serve landlord management platform, Azibo is designed to balance ease-of-use with robust functionality. It has a simple, intuitive interface that makes it easy to navigate to any part of the software in just a few clicks. All of the platform's functions are clearly labeled, making it easy to complete your immediate tasks quickly and efficiently.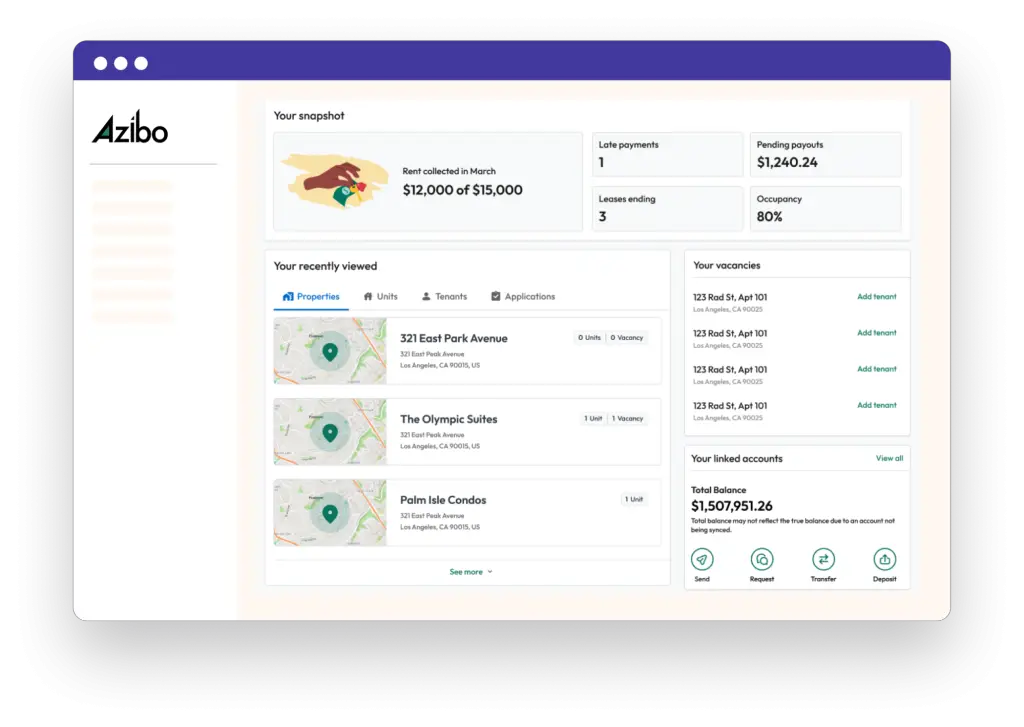 Azibo also goes above and beyond to ensure ease of use by offering free demos and walkthroughs. This gives users a comprehensive understanding of how to make the most of the platform's features.
For additional assistance, you can find a wealth of how-to videos available on their YouTube channel. And, should you have any queries or need quick tips, their robust FAQ section is an excellent reference resource.
Azibo's customer support is not only helpful but also prompt, with average response times of 3 minutes or less during business hours. You can reach the customer support team from Monday to Friday, 9 am to 5 pm PST, via chat or email at support@azibo.com. They're dedicated to responding to all inquiries within one business day.
If you prefer to communicate by phone, the customer service team can also be reached at +1 (855) 920-9907 during their regular business hours, from Monday to Friday, 9 am to 5 pm PST.
Rental Applications
Azibo simplifies the rental application process with its intuitive online service. As a landlord, you can easily toggle to accept tenant applications for your listed properties. Each application is conveniently populated into the "Applicants" tab of your property page, making it easy to manage and review prospective tenants.
These free online rental applications are pre-filled with standard prompts and questions, covering essential details such as:
Personal information: Including the applicant's name, email, and phone number, as well as their date of birth and desired move-in date, all stored securely within the platform.
Rental history, income, and employment: This feature collects the applicant's current and past addresses, reasons for moving, and employment details like current and past employers, position and title, as well as monthly income.
Tenant screening: Azibo's comprehensive tenant screening process includes a full credit report, identity validation, nationwide criminal history report, and eviction record reports.
It's worth noting that this feature comes standard with an Azibo account. It's free to use the rental applications function, and should you require applicants to undergo tenant screenings, the applicants are charged a fee of $39.99.
Tenant Screening 
Azibo offers comprehensive tenant screening services to help you find the best fit for your properties. These services include:
Criminal Background Check: Conduct a detailed review of an applicant's criminal history across all 50 states.
Sex Offender Search: Check if an applicant appears on any sex offender lists, aiding in ensuring the safety and integrity of your properties.
Eviction History: Azibo cross-references eviction records across all 50 states, including any judgment information, giving you a comprehensive view of an applicant's rental history.
Bankruptcy Screening: Examine an applicant's financial history for any records of bankruptcy, providing insight into their financial stability.
The data that your potential tenant provides in their application will automatically populate into their background check request, saving you time and ensuring consistency in the information reviewed.
One of the standout features of Azibo's tenant screening service is its cost-effectiveness for landlords and property managers — as mentioned above, it's completely free. The applicants cover the cost of the background check, which is priced at a one-time fee of $39.99.
Rent Collection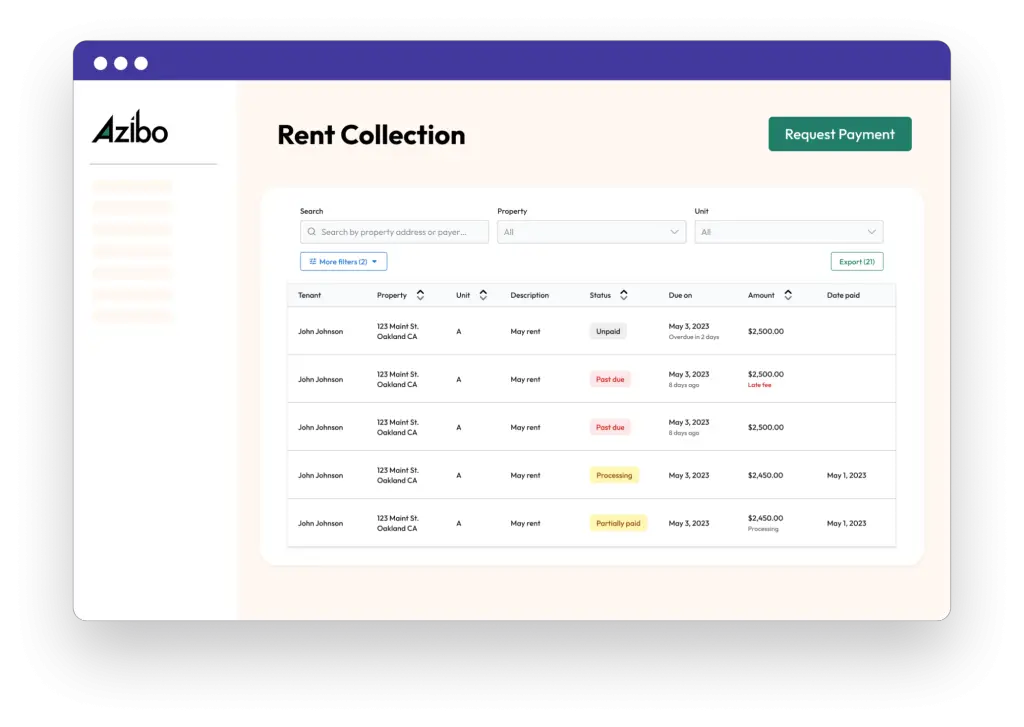 A primary feature of the Azibo platform is the free online rent collection service. Tenants can choose to send rent payments via their preferred method, including credit card, debit card, and ACH. The platform enables landlords to:
Obtain their rent payments typically within a three-business-day window.
Instantly monitor the rent payment status of all tenants, clearly showing who has and hasn't paid.
Dispatch timely reminders via email and SMS to tenants approaching their rent due date.
Accommodate tenants' financial needs by allowing for partial rent payments.
Set up and enforce late fees automatically, which are customizable based on lease terms.
Track security deposits efficiently, from collection to return at the end of the lease term.
Receive automatic alerts about uncollected payments and other important notifications.
Accounting & Finance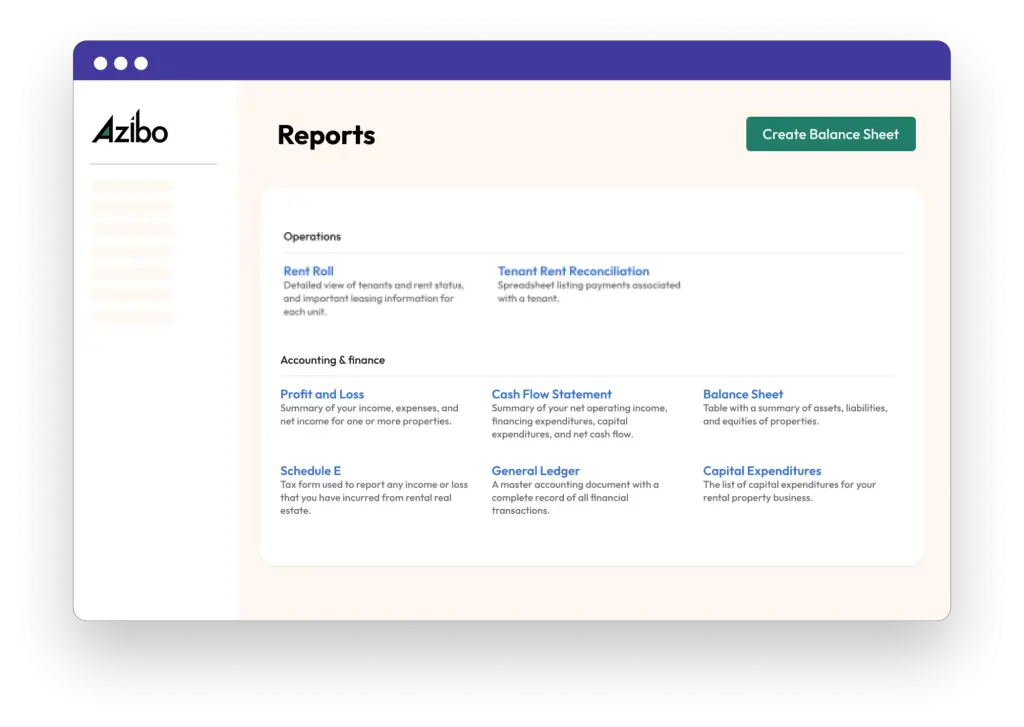 A full suite of accounting and financial management features can be found in the platform which, unlike QuickBooks, have been developed specifically for landlords and property managers. The tool's built-in features include:
Payment Scheduling & Processing: Facilitates easy sending and scheduling of payments through ACH, paper checks, or wire transfers.
Transaction Management: Allows transactions to be tagged and split using 200 pre-built tags, facilitating seamless tracking and management of income and expenses.
Real-Time Reporting: Provides immediate access to a suite of pre-built reports for real-time tracking and analysis of financial data, including side-by-side comparisons of property and portfolio performance.
Tax Preparation Support: Features an integrated tax packet tailored to landlords, simplifying tax document preparation and helping to avoid common tax errors.
Multi-LLC Management: Supports an unlimited number of LLCs within a single account, catering to the needs of real estate investors managing multiple entities.
Integrated Property Management: Offers built-in property management capabilities, including rental applications and tenant screening.
Financial Security: Prioritizes safety and security, offering FDIC-insured accounts and robust data and privacy protection.
Custom Lease Agreements
With Azibo's lease agreement tool, you can create custom, state-specific lease agreements swiftly. Not only does this provide a secure and legally compliant solution, but it's incredibly straightforward to use. With a user-friendly interface, the platform populates core lease terms from tenant applications, reducing human error and helping landlords stay organized.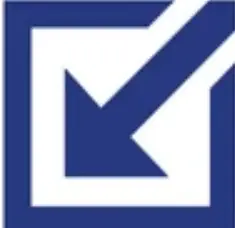 Also Read: Understanding Rental Lease Agreements: A Landlord's Guide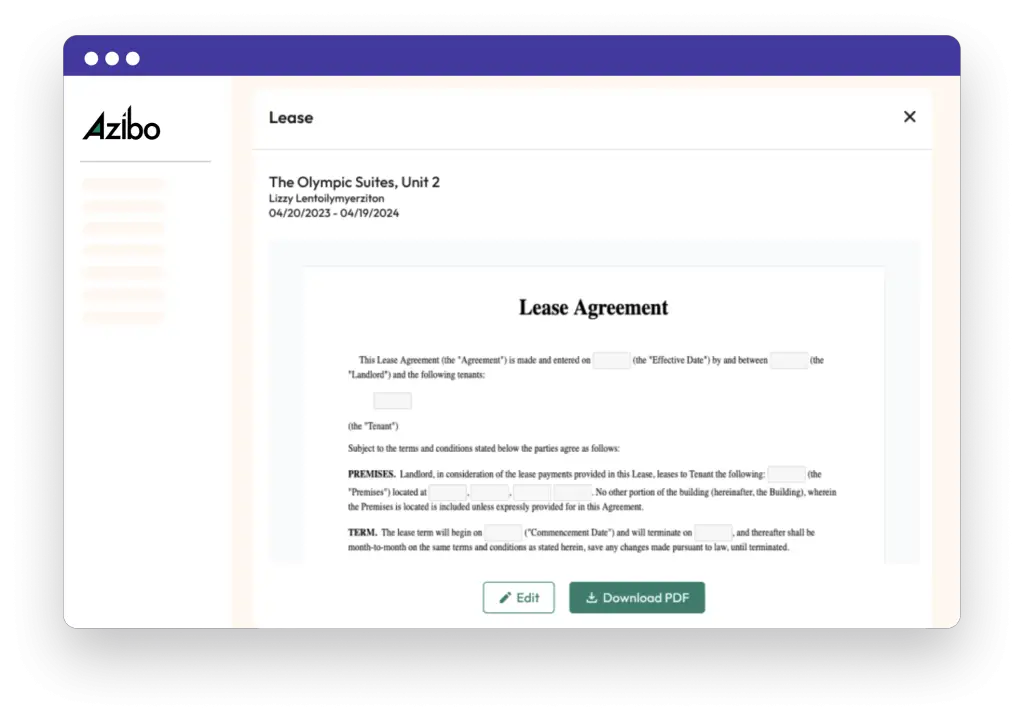 The convenience doesn't stop there. Tenants can sign their lease agreements online with an eSignature feature, and you're kept in the loop with real-time status alerts. 
For just $29.99, you get a bundled solution that includes both the creation of the custom lease agreement and the use of the eSignature feature.
Landlord Insurance
Azibo offers landlord insurance, including free quotes. Within the platform, there is a dedicated insurance section where you can quickly scan all of your insurance policies on all of your properties and see which of your policies are expiring soon and which policies need to be updated with new information.
At any time, you're able to get up-to-date quotes for insurance policies on any of your properties by clicking on the "Get a quote" button under each policy you hold.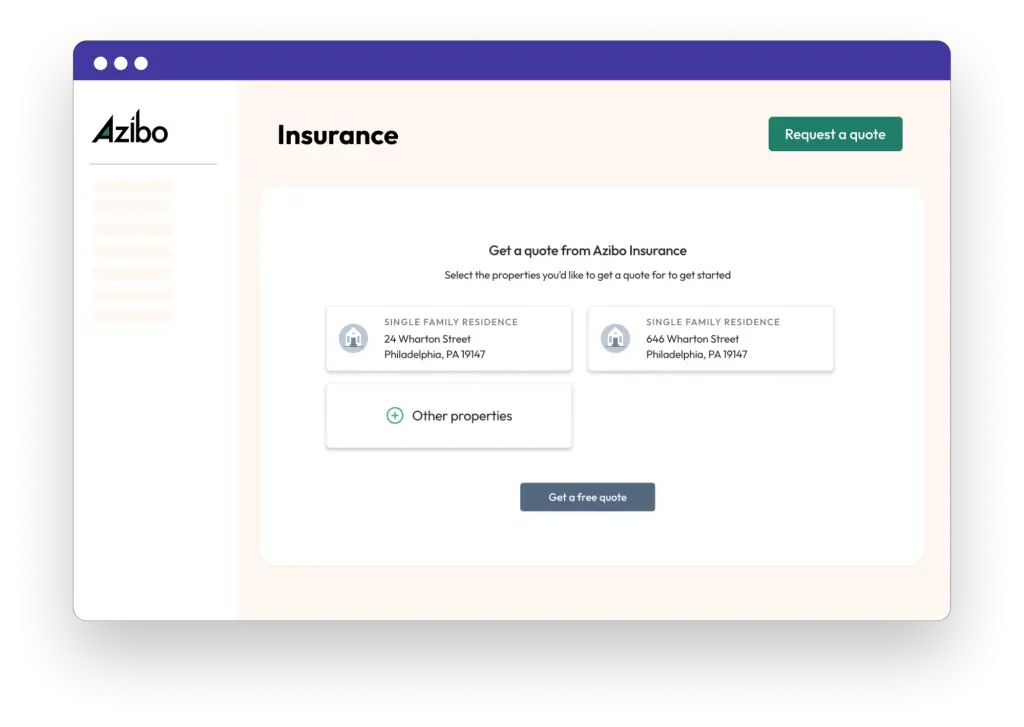 Azibo offers a wide range of coverage options including property protection, liability protection, loss of rents, personal contents, and umbrella coverage.
One unique feature Azibo offers alongside their landlord insurance options is their policy review service – their licensed team of insurance agents can review your entire portfolio of policies and give you some guidance on what options are best for you.
Tenant Services
Azibo also offers several tenant-centric features which, in turn, bring indirect benefits to landlords. Alongside accepting rent payments via credit card, Azibo has developed a feature known as Credit Boost to help tenants improve their credit scores through rent reporting.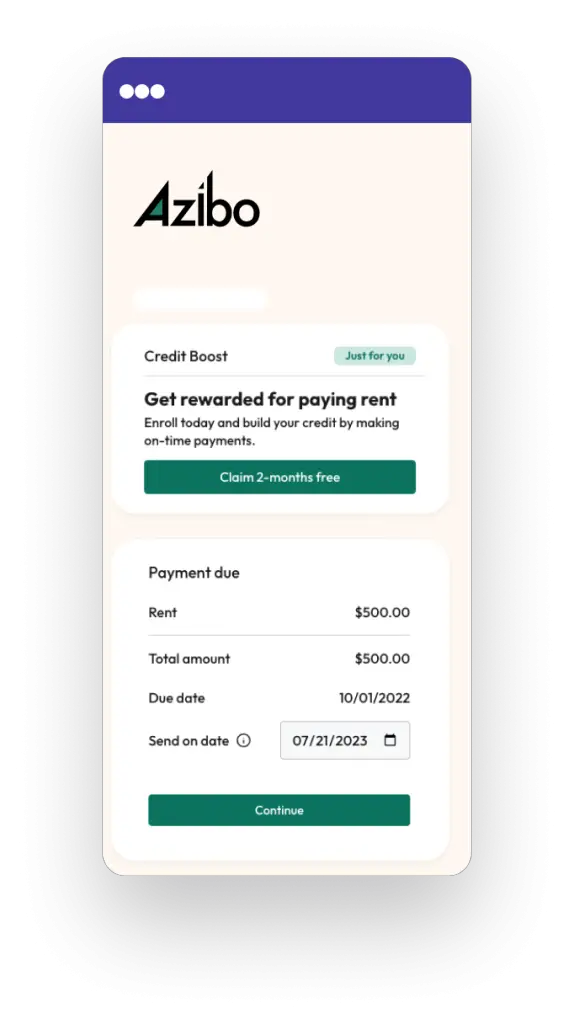 Tenants can sign up for Credit Boost for $4.99 per month to report their on-time rent payments to all three major credit bureaus (TransUnion, Experian, and Equifax). This allows landlords to help tenants increase their credit scores and also encourages them to make prompt rent payments.
Azibo also offers renters insurance for tenants. Depending on their location, landlords may be able to require that tenants secure a renters insurance policy. And if tenants already have an existing policy, they can upload proof of coverage to maintain compliance per the terms of the lease agreement.
Fees
There were no hidden fees that popped up during our assessment of the core platform. However, associated with the landlord bank account are a number of fees conditional on certain events, such as a $35 fee for insufficient funds, a $30 stop payment fee, and a $10 returned item charge. All of these fees are comparable with similar banking products available. 
Another fee of note is that there is a 2.99% fee for tenants who opt to pay rent via credit card. The landlord is not responsible for this charge. This is also comparable with other rent collection services.
Azibo's pricing page has a breakdown of the costs for the services it offers.
With several core features being free, Azibo has an interesting revenue model. They specifically explain how they generate revenue, which is through earning interest on cash balances held in landlord bank accounts, tenant screening services, transaction fees on credit card payments, and percentage commissions on insurance and marketplace offerings.
Take-Away
Azibo property management software's powerful functionality and ease of use make it stand out from other options on the market. Its unlimited world-class support, full-scale accounting functionality, and suite of useful features make it a fantastic option for landlords and property managers looking to streamline their workloads, save time, and grow their business. 
Since Azibo's core features are free, it's super simple to create an account and try out the features for yourself here. 
Disclosure: Some of the links in this post are affiliate links and Landlord Gurus may earn a commission. Our mission remains to provide valuable resources and information that helps landlords manage their rental properties efficiently and profitably. We link to these companies and their products because of their quality, not because of the commission.