Before we dive into the review, let's start with answering: what is Obie? Obie is an insurance company, specializing and focusing on providing coverage specifically to real estate investors. They do not do homeowners or auto policies, keeping them specifically focused on real estate investors.
The company is based in Chicago and was founded by two brothers, Aaron and Ryan Letzeiser who are both real estate investors. They experienced what many real estate investors experience with insurance – time delays and tedious forms – and decided to build a better product specifically for real estate investors.
One thing that stands out about Obie is the speed of their process. We'll detail this further below, but it's common for investors with properties from 1-4 units, to get a quote and bind their policies all within a few minutes. This is unheard of compared to the traditional process or compared to other websites.
Below, you'll read about what they've built for real estate investors, what makes Obie different from others that sell landlord insurance, and why you might want to give them a try.
Overall Summary Review of Obie
The overall takeaway from using Obie is residential real estate investors will likely find that getting insurance is easier than before – and much faster. Obie provides instantly bindable quotes, meaning investors can quickly obtain a quote and close on an insurance policy immediately without ever having to speak with an agent or experience any further delays.
As a technology-driven company, part of the secret sauce at Obie is how they're able to leverage better data from a variety of industry-leading sources, including Obie first-party data, to provide competitive rates through a product interface that walks investors through each step. This means you get the concierge service you might find by speaking with someone, but at the speed of modern business.
When evaluating who you get insurance from, there's a few areas you'll want to think about to reassure you're doing business with the right company:
Speed
Transparency
Overall knowledge / expertise
Service
Reliability
Given the criteria above, we believe Obie delivers above the industry standard. While the ability to get a quote instantly through Obie is game-changing, it's also nice to know you can reach out to their team for support and quickly have any questions about your quote answered. The combination of speed and service from Obie really sets their insurance experience apart from other ways to obtain insurance.
Quote and Binding Process
If you've already gone through the archaic process of getting insurance for an investment property, then you already know how bad it can get. Filling out paper forms, waiting days (and in the worst of scenarios, more than a week) for someone to get back to you, only to find out the rate is outrageous.
With that as the bar set, it doesn't take much to beat your previously held expectations. But Obie goes above and beyond.
Obie is the first company to provide instantly-bindable quotes for real estate investors. The quote process itself is very simple and should take only a few minutes. When broken down into steps, here's how it works:
Step 1:
Specify if the quote is for you as an individual or a business (such as if you keep your rentals in an LLC or trust)
Enter the address of the property you wish to get a quote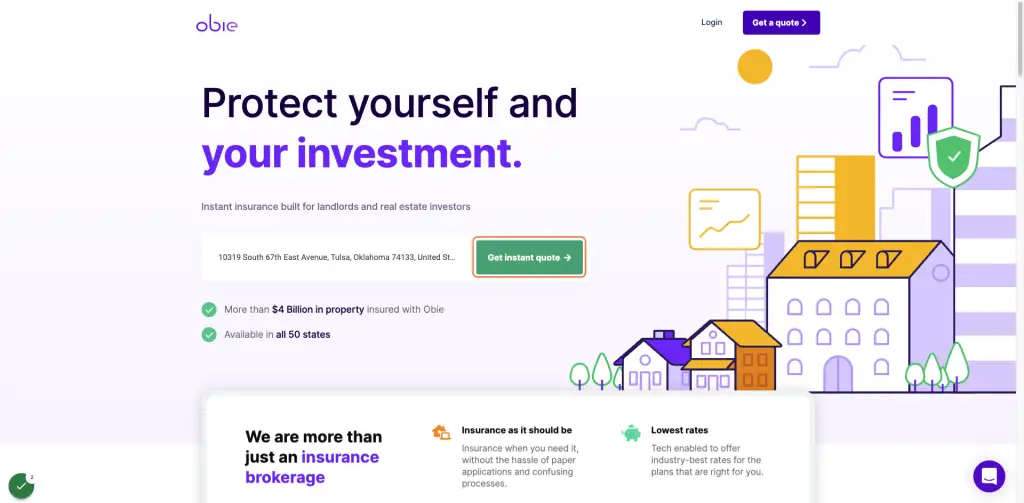 Step 2:
Confirm the property type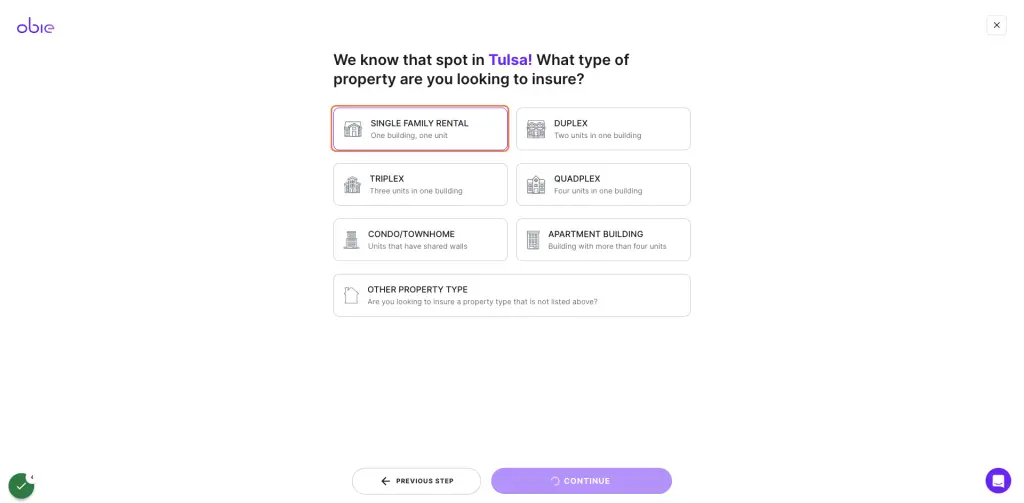 Step 3:
Select the answer to the questions such as:

Is this a new purchase?
When do you want your coverage to begin?
Do you live at the property?
Is this a short-term / vacation rental property?

If you're quoting an older property, you may need to supply answers to questions about the age of the roof, electrical system, and HVAC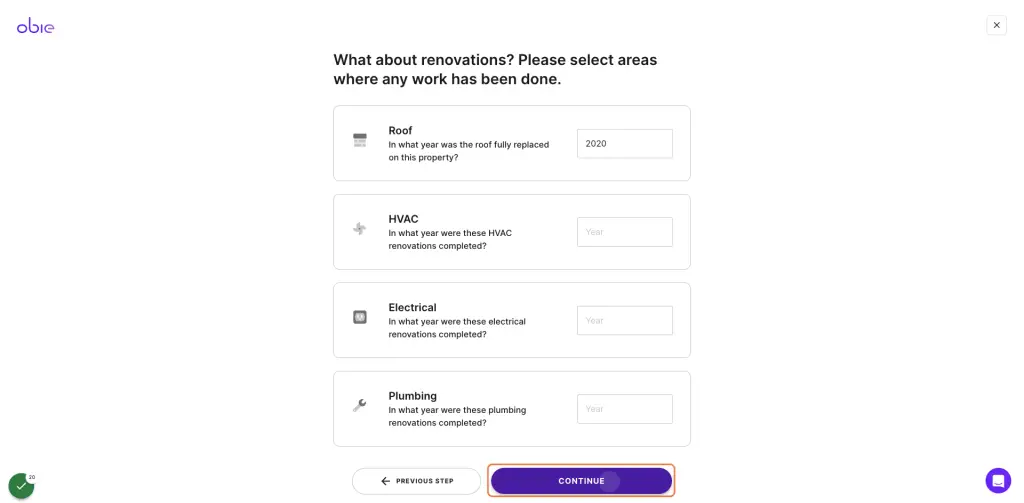 Step 4:
Confirm property features such as swing sets, pools, or trampolines
Select answers regarding previous claims at the property or planned renovations
Enter in your monthly rental income (can be estimated or actual)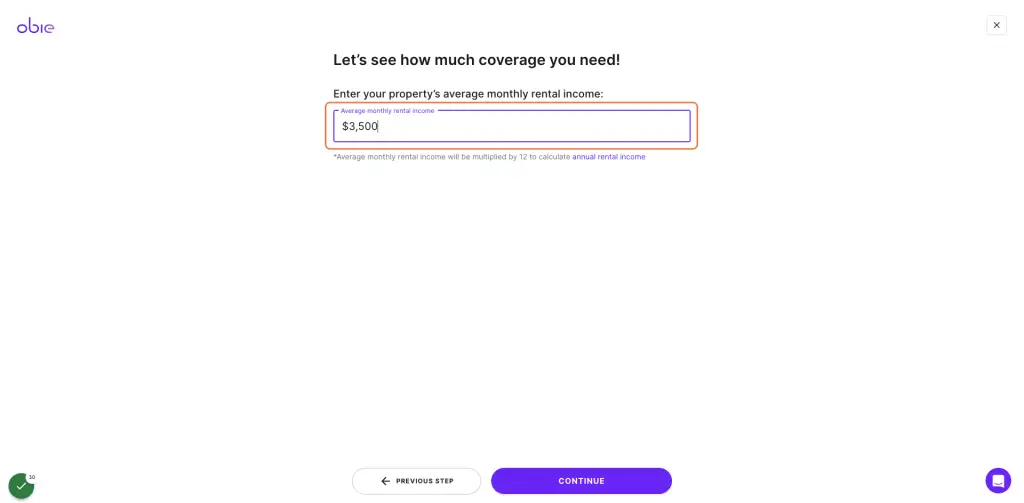 Step 5:
Then you'll receive an estimated replacement cost to rebuild your property
If you have a mortgage, enter in your lenders info (or skip it and enter it later)
Finally complete your contact information such as phone and mailing address
Lastly, submit your quote request.
The quote process from here goes one of two ways.
The first is you receive the instantly bindable quote. For most investors, this is what you'll get so long as your property isn't unusually unique or old. Then, you'll be able to select the policy of your choosing (you may end up receiving one or multiple options to select from based on your property profile).
The second path is you'll receive a follow up email from Obie if there's unique information still required to complete the quote request. This can be completed by responding to that email, using the Obie onsite chat widget, or calling Obie. All of this information is relayed in the follow up email.
Obie claims this can be completed very quickly, usually within a day. If you read other reviews, you'll see this is a common theme with Obie's service – to be fast.
Regardless of which path you go through, binding your policy with Obie is very simple. All policies are signed for digitally. For setting up payment, you can elect to pay for the policy up front (great choice for those of use wanting those credit card points) or you can choose to have it paid by your lender through escrow.
Types of Properties and Geographic Coverage Availability
Obie offers insurance for most types of properties. Their service for instantly-bindable quotes extends to:
Single-family homes
Duplexes
Triplexes
Four-plex / Quadplexes
Condos
However, if you have a 5+ unit apartment building or a different type of structure, such as an industrial warehouse or self-storage facility, you can still get coverage through Obie. This type of coverage isn't available digitally yet. To get a quote and coverage for these types of properties, you can still go through the main website to request a quote, and a specialized agent will follow up with you.
Regardless of where you live, Obie has partners in all 50 states, including Washington DC. So if you're a remote investor or invest in more than one market, Obie has you covered.
How is Landlord Insurance Priced?
This is one of the most important questions when evaluating who you get insurance coverage from. The biggest challenge here is that insurance isn't as easy to know how everything is priced ahead of time. When buying insurance, a better approach is to start with what you know you need coverage for and then compare.
Fortunately, when getting a quote from Obie you can have confidence that you're getting very good options as they shop your property to find the right policy.
One tool Obie has created to help increase the transparency on pricing of landlord insurance coverage is the Obie Risk Map. There are six factors this tool helps you better understand the scope of risk associated with your property, that will directly or indirectly affect the price of coverage.
Flood Risk
Wildfire Risk
Proximity of Fire Station
Earthquake Risk
Wind Risk
Estimated Replacement Cost
Touching on estimated replacement cost, this portion of the tool is valuable in and of itself. Whether you're looking to estimate your insurance costs or you're evaluating a new market, the estimated replacement cost portion of the Obie Risk Map can help you get a better understanding of the local market and how much more a property could cost you in the long run.
Pricing often reflects the amount of coverage you have against certain perils. So if you're seeing one quote from one company that is dramatically less than another – be sure to compare your coverage types and amounts. One thing to note about Obie is their service does not default to the barebones coverage amounts. If you're purely shopping to satisfy the minimum requirements of your loan, Obie can give you that, but their tool won't give you that on the first go (and they don't recommend it).
Some additional coverages you'll want to consider how much you need are:
Loss of Rent
Business Property
Personal Liability
Ordinance or Law
Water Back Up
Terrorism
Medical Payments
Final Thoughts
All in all, Obie is a great way for investors to significantly reduce the amount of time it takes to get landlord insurance. Thanks to their simple, quick-quote process, investors can insure their properties nearly instantly.
For most investors who are already insured, it's still worthwhile to get an Obie quote to, at the very least, compare coverage and rate. The ability to instantly know how your current coverage and price of premium stacks up is invaluable and game-changing for those exploring all of the ways to reduce expenses and best protect their properties.
Disclosure: Some of the links in this post are affiliate links and Landlord Gurus may earn a commission. Our mission remains to provide valuable resources and information that helps landlords manage their rental properties efficiently and profitably. We link to these companies and their products because of their quality, not because of the commission.