Survey Results: Which Rental Tools Do Landlords Want Most?
Savvy landlords and investors often use rental apps or other software to help accomplish their property management tasks. While each has strengths and weaknesses, we wanted to find out which important features of property management software landlords really want. We asked landlords to select the most important features of property management software. Here is what we learned: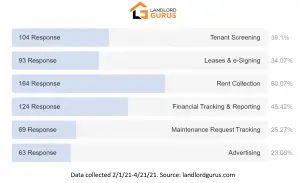 ---
The best rental property management software products can help landlords efficiently and effectively manage their portfolios. There are a variety of choices out there. Finding the right one for you depends on what your top priorities are. Take a look at what features of property management software are most important to you, and then let us help you find your landlord software.
---
Disclosure: Some of the links in this post are affiliate links and Landlord Gurus may earn a commission. Our mission remains to provide valuable resources and information that helps landlords manage their rental properties efficiently and profitably. We link to these companies and their products because of their quality, not because of the commission.