Property Management Software: What Features Do Landlords Want in 2022?
Rental property management encompasses a wide range of tasks, from advertising, tenant screening, and rent collection, to maintenance tracking, lease signing, and financial tracking and reporting. Savvy landlords and investors often use software and other tools to help accomplish these tasks. We have reviewed a variety of rental property management software products. While each has strengths and weaknesses, we wanted to find out what property management software features landlords really want in 2022.
We have collected new data over the past year when we originally asked landlords in 2021.
Top Features of Property Management Software
We asked landlords to select the most important features of property management software. Here are our key observations: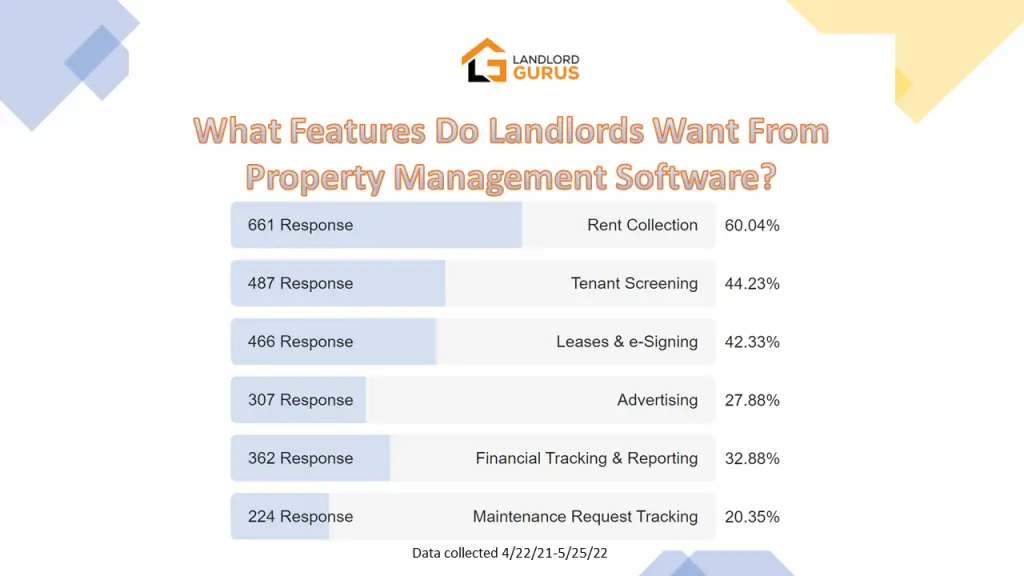 1. Rent Collection is Still King
There are countless benefits of collecting rent online. Because of the various pitfalls of handling cash, as well as time and labor savings and eliminating late or missed rent payments, many landlords are turning to online rent payment services.
As a result, rent collection tops the list of features of property management software that landlords want. Over 60% of our landlords chose this as one of their most important features.
⭐ Our favorite software products for online rent payment are Avail, PayRent, and Hemlane.
2. Tenant Screening Services
Tenant screening and lease signing both moved ahead of financial tracking and accounting this year. We cannot emphasize this enough: tenant screening can help minimize the risk of having bad tenants. Done right, you will save yourself from the potential loss of rental income, damage to your property, and costly evictions. We were glad to see an increase of 6 points to 44% of our landlords prioritizing this feature.
⭐ Our top selections for the best tenant screening service for small landlords are RentPrep, ApplyConnect, and Avail.
3. Lease Agreements and E-Signing
At Landlord Gurus, we recommend landlords have their tenants sign leases remotely. The benefits include cost, convenience, expediency, and strength of the agreement. Also up 8% from last year, over 42% of landlords that we surveyed agreed that leases and e-signing are one of the top features they need from their property management software.
⭐ Avail, EZLandlordForms, and Hemlane are our top choices for the best residential lease agreements.
4. Bookkeeping and Accounting Tools
Moving down our list of required features of property management software is financial tracking and reporting. This year under a third of our landlords selected this in their top requirements. This feature includes bookkeeping, accounting tools, expense tracking, and tax preparation.
⭐ The best property management software products can help landlords generate useful reports as well as with bookkeeping, accounting, and tax prep. Stessa, RentRedi,and Rentec Direct are our top choices in this category.
5. Advertising Rental Property
Next on our list of top property management software features is advertising. Many landlords continue to list their vacant rentals on some of the more popular rental listing sites such as Zillow or Craigslist. However, we see more and more landlords searching for the best free ways to advertise property for rent, especially now that Zillow is charging $9.99 per unit per week.
⭐ What landlords often don't realize is that there are alternatives to Zillow, and that property management software can help get your listing in front of your next potential tenant. For 2022, we believe the best solutions for most landlords are Avail, TenantCloud, and RentRedi.
6. Managing Maintenance Requests
Rounding out or list of property management software features is managing maintenance on rental property. The best software allows you to create a calendar, where you can schedule routine events such as inspections and cleanings. We also love any product that makes it easier to field requests from tenants and coordinate the repair with the appropriate service provider.
⭐RentRedi, Hemlane, and Marble are our top choices for the best property management software in this category.
Takeaway
The best rental property management software products can help landlords efficiently and effectively manage their portfolios. There are a variety of choices out there. Finding the right one for you depends on what your top priorities are. Take a look at what features of property management software are most important to you, and then let us help you find your landlord software.
Contact Us
Let us know if you have suggestions for any other topics related to landlording or property management. Send us an email at: info@landlordgurus.com
If you know someone who would be interested in content like this, please feel free to forward this email to them.
Thanks!
Landlord Gurus