Honeycomb Insurance's CEO Itai Ben-Zaken had been in the insurance game for many years when he identified how the market really lacked a quality product for real estate investors, leaving many landlords underinsured and vulnerable. 
10.6 million Americans earn income from rental properties, so this is undoubtedly a huge market. Despite being a big market, insurance carriers have consistently underserved customers, leaving landlords to buy an insurance product that didn't fit their needs.
The founders of Honeycomb Insurance wanted to create a product that was dedicated to landlords only.
Honeycomb Insurance's founders had already been in the insurance game for many years when they identified how the market really lacked a quality product for real estate investors, leaving many landlords underinsured and vulnerable. 
By focusing only on landlords, Honeycomb has been able to create a product that offers the same coverage for up to 40% less. 
Homeowners Insurance vs. Landlord Insurance
Half of the single property landlords purchased their property as a primary residence, meaning that the investment property didn't start as a rental unit but rather as their home. If you started out by living on the premises yourself, you would normally get a classic homeowner's insurance policy. Once you move out though and tenants move in, this coverage is not adapted to your new needs as a landlord.
First of all, there are many risks related to being a landlord you would not have if you lived on the premises. One example is loss of rental income if the property becomes temporarily uninhabitable due to damage from example wind and hail. This can be covered with landlord insurance but would typically not be covered by homeowner's insurance which would only cover the people who actually live in the home. Medical expenses for serious injuries can last for years, so this is something landlords should have covered as well.
On the other hand, your homeowner's premium would probably also cover any personal belongings in the house such as jewelry and other valuables. Once you move out and start using the property as a rental unit, you probably take your belongings with you. Your homeowner's policy would then be charging you for a service you no longer need, which is a complete waste.
It's worth mentioning though that whatever the tenant brings with him or her is not covered under a homeowner's policy and the tenant would have to get renters insurance for this. If you are renting the place out with furniture, this would also not be covered by a landlord insurance policy and should be part of the security deposit or another arrangement you may have with the tenant.
| | | |
| --- | --- | --- |
| Coverage  | Homeowners Policy | Landlord Policy |
| Dwelling Coverage  | $350,000 | $350,000 |
| Personal Property (Clothing, Electronics, Jewerly, Goldware, etc.) | $200,000 | $0 |
| Rental Income | $0 | $80,000 |
| General Liability | Only Personal Liability | $2,000,0000 |
| Estimated Annual Premium  | $1,000 | $700 |
The Honeycomb Difference
Honeycomb is a new carrier that is working directly with landlords and offers insurance exclusively to landlords and real estate investors. The insurance will cover any rental properties from a single-family home to large multifamily complexes. You can also get an insurance for shared spaces in an HOA/COA.
Because the insurance is tailored to rental properties, a typical customer will save up to 40% on average on their policy when choosing Honeycomb insurance. The main reasons for this are:
By joining a program that includes only rental properties, premiums are being priced differently than other insurance carriers.
By using state-of-the-art, innovative technology, the risk associated with a property is more accurately estimated. This provides better savings for landlords.
The program rewards landlords who take good care of their properties with extra discounts.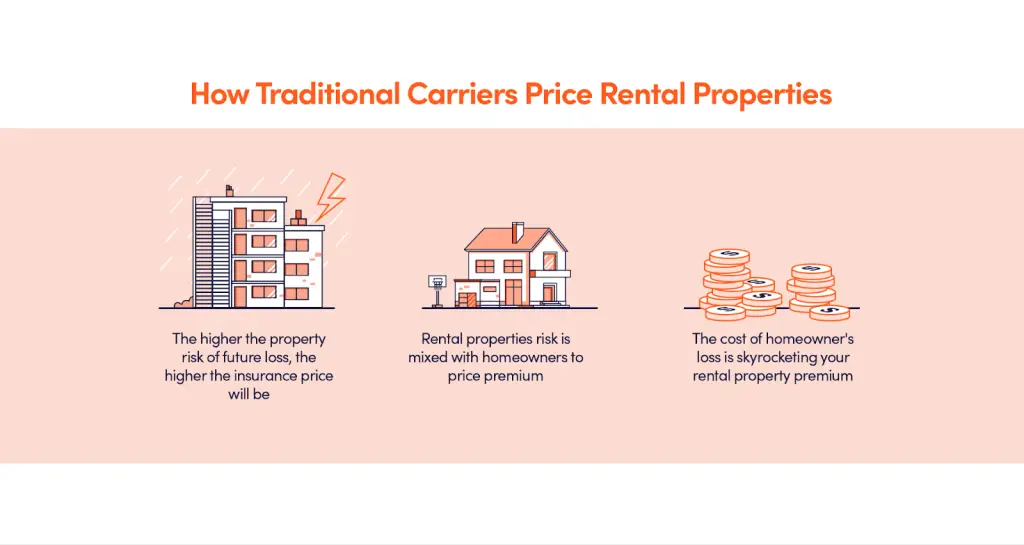 The product is also direct-to-consumer, meaning that you can do the whole process yourself online. This isn't a new thing in insurance as you could do that with medical and auto insurance for many years already, but with landlord insurance Honeycomb is one of the first companies to offer landlords an all-digital solution for their insurance needs.
There is also a dedicated team of skilled and experienced agents and underwriters that can help you complete the process if needed. Any question you may have can be asked to them directly, or you can browse their learning center for dedicated articles about various insurance topics.  
Honeycomb is currently operating in CA, TX, WI, PA, GA, AZ, OH, MI and IL, with more states launching every month. 
How It Works
Honeycomb offers insurance for properties that are being rented out, anywhere from a single-family home to large multifamily complexes. 
The process is simple. You go to honeycombinsurance.com and enter the address of the property you need insurance for. The system will quickly let you know if Honeycomb's insurance is available in that specific area.
Once it has been confirmed that the insurance is available in your location, you'll be asked to specify what type of insurance you are looking for: COA/HOA insurance, multi-family rental or single-family rental.
After that, you'll be asked to fill in a few details about the property, such as what year it was built, size of the unit, how many parking spaces etc.
You will also be asked about what kind of facilities and amenities the property has, such as swimming pool, sprinkler system and playgrounds etc. 
You'll have to fill in some details about the approximate age of building systems (roof, plumbing, etc.), and what kind of property condition and maintenance you have.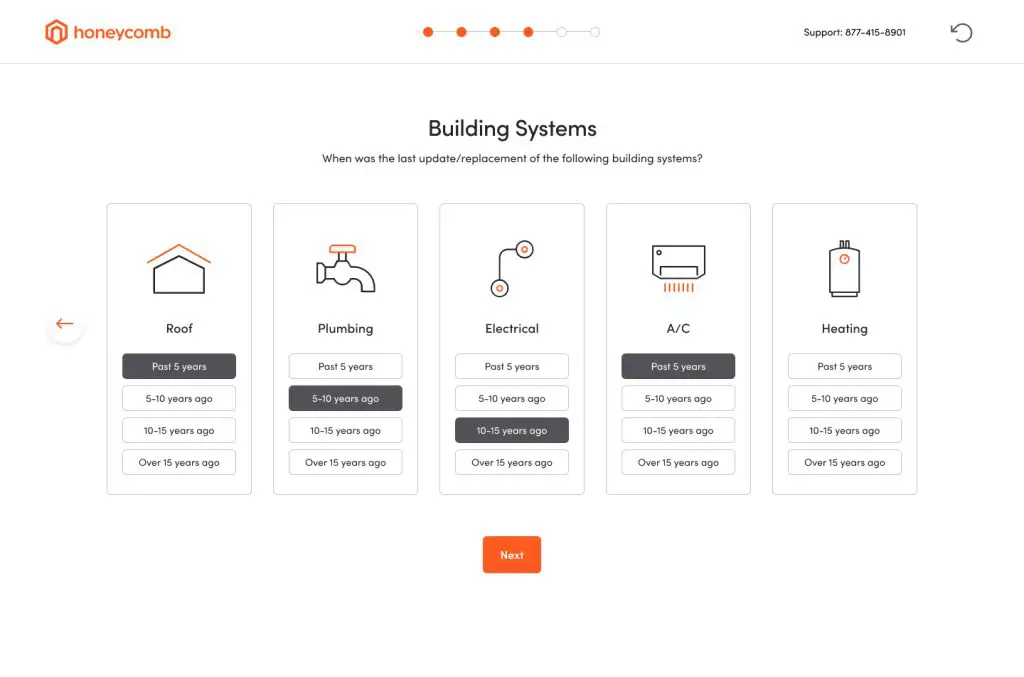 At the end, you have the option to customize your policy according to your needs and wants. For example, you can decrease the premium price by option for a higher deductible if you have some savings. You can also adjust the annual business income limit or replacement costs. 
After completing the process, you will either get a bindable quote directly to your inbox right away, or a representative from Honeycomb will reach out to you with a few follow-up questions before sending the final quote.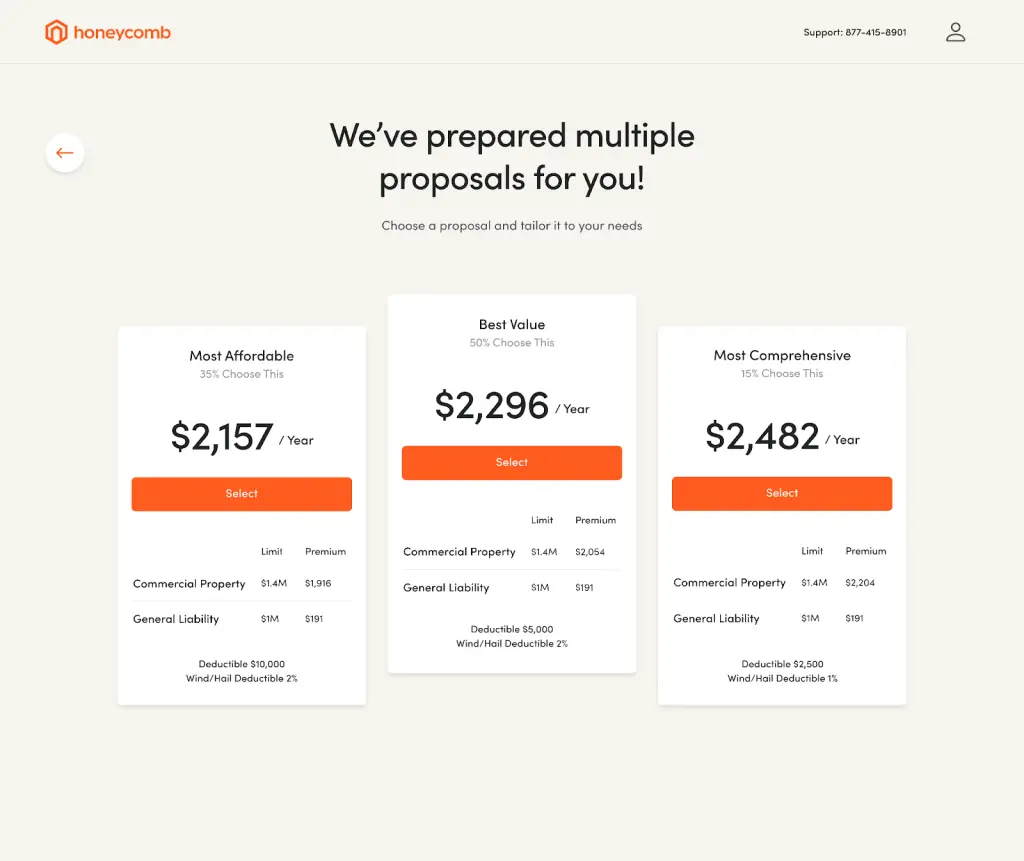 Take-Away
Honeycomb is a dedicated insurance program designed for landlords and real estate investors. 
It makes buying insurance for rental properties easy, fast and affordable.
With insurance cost skyrocketing recently, Honeycomb offers a great alternative to traditional carriers with its proprietary pricing and tech-forward platform.
You can get a quote from Honeycomb Insurance for your rental property today by clicking here 
Read More About Honeycomb:
Insurance Journal: Multi-Family Property Insurtech Honeycomb Raises $15.4 Million, Plans Expansion
Businesswire: Honeycomb Brings Efficiency, Simplicity and Transparency to $22B Multi-family Property Insurance Market
TechRound: Itai Ben Zaken: Can AI Make the Winter Blues Better?
Disclosure: Some of the links in this post are affiliate links and Landlord Gurus may earn a commission. Our mission remains to provide valuable resources and information that helps landlords manage their rental properties efficiently and profitably. We link to these companies and their products because of their quality, not because of the commission.