As a landlord, choosing the right tenants can be a difficult task. Choosing the wrong tenant can mean losing money, creating stress, and being left with the burden of finding a quality replacement. Choose the right tenant, and you will have someone who is responsible, reliable, and in it for the long haul. Checking references can give you insightful information about your potential tenant before jumping to sign paperwork. For this reason, we're going to help you choose the best questions to ask rental references when evaluating new applicants.
Four objectives when contacting rental references
Questioning references is one of the best ways to learn more about your applicant. References can help you assess character, interpersonal skills, financial fitness, and ability to pay.
Assessing Applicants Character: Before committing to a tenant, you want to know that they are reliable, trustworthy, and consistent. Landlords need tenants who meet financial obligations and do what they commit to doing. They must also be prompt and clear in their communication, and take care of the property. Good tenants take responsibility for their conduct as well as their commitments.
Assessing Interpersonal Skills: Asking references about an applicants interpersonal skills helps you know what to expect where it comes to communication and relationship-building. An applicant who creates conflict with the people around them is a huge liability, and can make your life painful.
Assessing General Financial Fitness: Good tenants usually have a track record of remaining employed and consistently paying bills on time. Employment and landlord references can provide invaluable information on a prospective tenant's earning, spending, and financial practices.
Assessing the Ability to Pay: Even for tenants that have a good financial track record, it's still important to ensure they are prepared to handle the costs of living at your property. Verifying income with an employer will indicate whether an applicant brings in enough each month to cover rent. Many landlords use an income-to-rent ratio as a rule of thumb – often 3:1, though it varies by landlord, property, and region.
Deciding which questions to ask rental references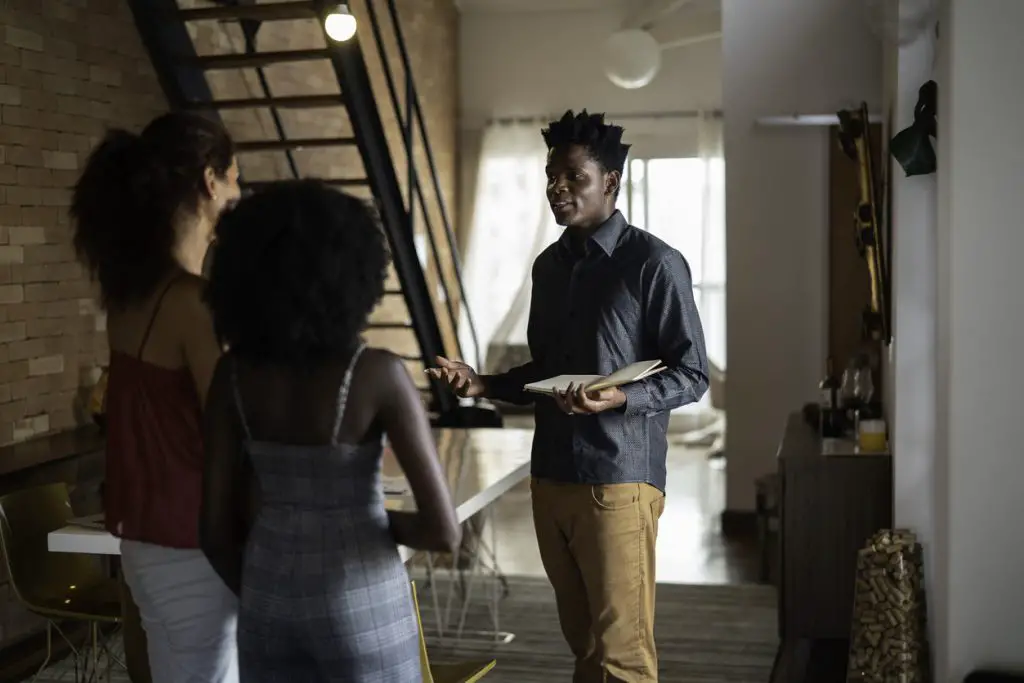 Developing a list of questions to ask referrals can provide landlords at least a broad understanding of how a potential tenant operates in the world – both personally and professionally. We feel it is important to take care to ask the questions that give you the best vision of who each applicant is. Here we'll discuss how develop a list of questions to ask rental references.
Landlord References
Rent Payments: How much did the tenant pay in rent? What was their record of paying on time? Did they pay the entire rent amount, or share that responsibilities with others?
These questions give you a good idea of what kind of rent an applicant is already comfortable with. If their previous rent was $800 and your property is $1,200, you may want to question how well they will be able to balance the shift in payments. In these cases it is particularly important to verify with an employer reference that their income is sufficient to afford the property.
In addition to assessing financial fitness, pay attention to whether the applicant has provided you accurate information. Failure to do so could signal that you're dealing with someone who's inaccurate, not careful, or dishonest – none of which are good characteristics in a tenant.
Also Read: The Best Online Rent Payment Service for Small Landlords
Utilities & other fees: It's not enough just to pay rent. Staying current on utilities and other expenses is a critical part of being a good tenant. If the applicant pays their rent on time but struggles to keep up with expenses such as utilities, for example, this could mean hassles and financial headaches for their landlord. This is especially true where utilities consider property owners the ultimate responsible party; a tenant's failure to pay could leave the landlord holding the bag.
Upholding agreements: Did the potential tenant stay at their previous location for the stated period. Did they stay for the full term agreed-upon in their lease agreement? Was proper notice given?
Unfortunately, there are many tenants that will jump from place to place, which creates problems for you as a landlord. Checking that a prospective tenant has provided accurate information on their rental history can help you avoid these issues.
Interpersonal skills: While financials are extremely important, landlords are wise to gather information on how prospective tenants interact with the people around them, in order to ensure that your potential tenant doesn't regularly engage in conflict.
Interpersonal skills, and styles, will impact your experience interacting with a tenant. Equally, if not more important, conflict-prone tenants can disrupt other their neighbors. This could lead to valuable tenants moving out of the property. Problematic tenants can cause hassles, and also impact the profitability of the investment.
The bottom line: "Would you rent to the tenant again?" A tenant might have paid bills on time, however that doesn't mean that a prior landlord would rent to them again. Asking landlord references this question provides an overall perspective on the experience of renting to an applicant. Many property managers and small landlords are reluctant to answer questions in a negative way, fearing liability for responding in a way that could be seen as harming the applicant. Some may also feel uncomfortable saying talking negatively about another person. Asking whether they would rent to a tenant again allows a reference to answer specific question without getting into the problems they experienced.
Employment References
Confirm salary: When you reach out to the applicant's employer it's important to ask that they verify the salary (or wage / average hours worked) that an applicant stated. Checking the information provided helps in assessing a prospective tenant's ability to pay rent, and confirms that this is a person who is being truthful with you.
Verify employment terms: What is the applicant's position at the company? How long has he/she been there? Is this a full-time, part-time, or contract employee? Is this employee "in good standing"? Asking these questions can provide more context into a prospective tenant's employment situation than the simple information provided on an application.
Check reliability: Another thing to ask employers is whether the applicant is a responsible worker. We are creatures of habit. If the applicant is responsible at work, chances are they will be responsible when it comes to paying rent. Similarly, if they do not take their job seriously then you shouldn't expect them to be responsible when it comes to your property. 
Screening tenants where traditional reference input is not available
A number of issues can arise when checking rental references. It can be difficult to decide how to deal with missing information, lack of a track record, or difficulty reaching the rental references provided. We suggest developing alternate lists of questions to ask rental references in these cases.
Problems verifying income: More and more people are working in non-traditional ways. Many work as independent contractors, or have alternate sources of income. Both scenarios mean that W2 proof of income will not be available, nor will direct supervisor references to contact. Some supervisors will not provide information on their employees.
A few measures to deal with these complications include:
asking for past tax returns or copies of pay stubs, payment checks, or W2's. We suggest this especially if a supervisor declines to act as a reference).
requesting investment statements, alimony agreements, or proof of subsidies.
requiring contacts at companies an applicant contracts for – who can provide perspective on that relationship.
Lack of credit, rental or employment history: This is tough one, though it's not uncommon when renting to young people or those moving from other countries. Very cautious landlords might not rent to these prospects. This is sometimes hard to avoid when the applicant pool is small. Giving a person who's just starting out a chance is also a virtuous thing to do, and grateful tenants are usual good tenants! An applicant coming from outside the country could be a fantastic candidate, and ruling them out based on lack of references might be a mistake. Here are a few measures one can take to deal with these risks.
Ask for a guarantor (co-signer). Don't forget to verify that person's identity, and consider running a credit report on them as well.
Ask for a letter offering employment.
Ask for pay stubs, taxes, or cancelled checks when trying to confirm income in the absence of established credit history.
Informal living arrangements: Applicants come directly from their parent's house, or they may lived with roommates where there is no formal lease or landlord. In this case we suggest:
Speak with personal references
Speak with roommates
Offer only a month-to-month lease
Also Read: The Best Tenant Screening Service for Small Landlords
Other factors for landlords to consider when choosing questions to ask rental references
Reviewing applicants can be a difficult process. Choosing the best questions to ask rental references goes a long ways in assuring that you choose the best tenants. Here are other considerations when searching out the right tenant for your property.
Applicant consent: Many landlords don't know they must legally get consent to contact references, and many references will require proof. We recommend using an application that also grants that permission once it's signed.
Fake References: Some applicants may ask family or friends to pose as an employer or tenant. To avoid this, it's best practice to ask questions that the friend or family member wouldn't know. For instance, if the reference claims to be an employer, ask information about the applicant's salary and title at work.  If it's someone claiming to be a landlord, ask them questions such as what their rent is and to provide addresses.
Researching online presence: Most of us now have quite a bit of personal information online. While some people are (wisely, probably) cautious about posting personal details, photos, and other information, many are not. Social media profiles can give landlords insight into a prospective tenant's interests, opinions, attitudes, and activities. Searching these platforms can also provide important information on the references you'll be contacting:
LinkedIn: We recommend searching this platform for information on both the applicant and the employment reference. Often it's possible to verify position and tenure of the prospective tenant, and also to make sure the supervisor that's been listed is legitimate.
Facebook, Instagram, & other social media platforms (it's hard to keep up!): Some businesses may not be on LinkedIn, or have much presence on the internet at all, but will have pages on social media. Again, searching these sites may yield information on both applicants and employers.
Resistant or misleading references: Landlords will be familiar with the phenomenon of contacting references who decline to answer some (or all) questions. Others may require them in writing. Landlords also need to be aware that some references may have motives to give incomplete or false responses. Here are a few suggestions on navigating these issues:
Have a carefully crafted set of questions for each type of reference and ask those same questions consistently. We suggest writing yes/no questions, with a followup to each that invites the reference to add more context. Some may decline to do so, but you've made it easy for them to give basic, objective answers. You've also left the door open to getting more in-depth insight into your applicant.
Current tenants in particular can have motives to give misleading information. They may give unwarranted positive responses in hopes a bad tenant will get a new rental and move on. They may provide negative information in hopes that a good tenant will need to stay int their unit. We recommend contacting past landlords, as there is less chance that they'll have an ulterior motive when answering questions. Consequently they are often more likely to provide candid feedback on a prospective tenant.
Choosing the best questions to ask rental references is an important part of developing a successful system for finding the best tenants. Getting the input of people who know your applicants adds a layer of insight not on application forms and screening reports. We strongly suggest landlords call references when screening all potential tenants, and consider the issues we've discussed when developing questions to ask.
If you'd like to use a list we've developed, please provide just your email address in the form below and we'll email it to you!
Disclosure: Some of the links in this post are affiliate links and Landlord Gurus may earn a commission. Our mission remains to provide valuable resources and information that helps landlords manage their rental properties efficiently and profitably. We link to these companies and their products because of their quality, not because of the commission.