Whether you manage one or 100 properties, you know that tenants can make or break a rental portfolio. Without the right screening tools, it's nearly impossible to know whether or not a tenant is likely to make on-time payments. This is where RentPrep tenant screening software comes into play.
Finding good tenants isn't always easy on your own. Landlords find that using a tenant screening software is the easiest and most cost-effective way to determine a tenant's likelihood of remaining in good standing. As a result, RentPrep provides tenant screening services to help landlords quickly determine which applicants will be responsible tenants. 
Unlike other property management software companies that we have covered, RentPrep focuses solely on providing tenant screening services. They don't offer paid services for advertising, applications, rent collection, tenant communication, maintenance requests, tracking, or financial reporting.  However, they do have a landlord bundle available for download, which includes over 60 important forms all landlords need.
Here's what you need to know about RentPrep so you can decide whether you want to use their services to screen your future tenants.
Tenant Screening Services from RentPrep
A huge selling point for RentPrep is that there are no subscription fees to join. You'll pay for screening services only when you request them, so you'll never have to worry about making monthly contractual payments or paying for something you don't need.
With a focus on tenant screening, RentPrep offers a variety of services and service levels for landlords with portfolios of all sizes. It's free to sign up for a RentPrep account. Once you register, you can decide what type of tenant screening services you need. You can even Live Chat directly with an FCRA Certified Screener to help answer questions and concerns you may have before running your first background check.
Tenant Background Check 
A background check is a good idea for any tenant. It shows you red flags so you can determine if an applicant poses any risks for causing damage or failing to pay rent on time.
RentPrep background reports are hand-compiled by a team of FCRA certified screeners. This is important because these human screeners can identify and correct errors commonly found in credit report databases. This additional step ensures that the reports you receive are accurate.
Aside from using the information you have obtained from an application, you don't need to involve your tenants or applicants before you order this background check.  RentPrep doesn't offer online applications, but you can download a free one from their website.
The RentPrep tenant background check includes:
$21 per tenant
Bankruptcy history: The FCRA limits bankruptcy history to the last 10 years.
Nationwide eviction search: See if an applicant has been evicted or served eviction notices. 
Judgment and liens history: These can negatively impact credit history. A judgment regards an applicant's rights and liabilities as part of a legal proceeding and is issued by a court. A lien is assigned by a creditor and gives them a legal claim against private property that a debtor owns as security for a debt.
Social security number verification: Verify that your applicants are who they say they are.
Global Homeland Search (included in Nationwide criminal and sex offender search): Individuals who show up here could be involved in "terrorist activities, money laundering, illegal imports, fraud against government agencies, violations of federal banking regulations, or drug trafficking."
You can add on additional searches if you would like. Available add-ons include the following: 
Nationwide criminal and sex offender search ($6)
Credit decision report ($11)
What is a credit decision report?
RentPrep's credit decision report isn't the same as a credit report. You won't see specific information about an applicant's credit history. Instead, it uses a star rating that corresponds to a credit score range. You select the number of stars that you would like your applicants to have. For instance, a 4-star rating means the applicant has a FICO score of at least 650.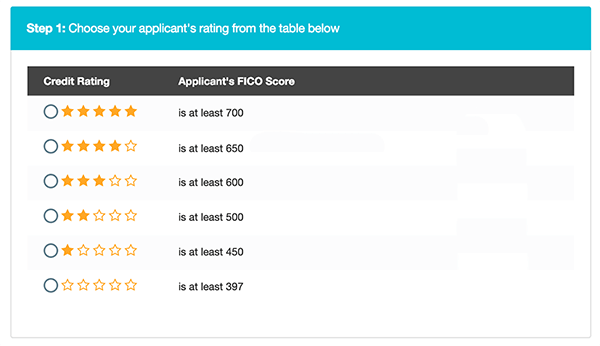 If an applicant meets your credit scoring criteria, the report will return a passing score. If the applicant does not meet the criteria, the report will return a fail score and give you codes that correlate to the general reasons why the applicant failed (high balances, delinquent accounts, etc.)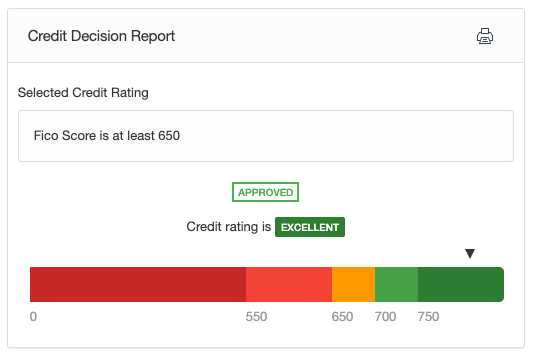 One-Time Landlord Credentialing
Because you are still getting access to information about an applicant's credit history, you will need to go through a one-time credentialing process. It includes sending RentPrep the following:
Copy of driver's license
Copy of signed rental application
Proof of ownership or management of the property (mortgage, deed, homeowners insurance policy, county assessment, etc.)
Benefits of RentPrep's tenant background check
A lot of companies offer background checks. Here are some things that make RentPrep stand out from some of their competitors. 
The applicant doesn't need to respond or send written agreement
Easy pass/fail decision based on the credit standard you select
Shows score range but does not include the exact FICO score
Hand-compiled by a team of FCRA certified screeners to ensure accuracy
If the applicant fails, you'll see summary codes from the credit report to get some context
TransUnion Full Credit Report
When you need more specific information about an applicant's credit score and history to make a decision, you'll need to get a full credit report. RentPrep's TransUnion full credit report will give you all the information about an applicant that you need to make a decision about whether or not to move forward with them as a tenant. 
Because of the nature of this report, applicants will need to respond to an email in order for you to receive the final results. They'll then be taken through a three-step process. First, they'll enter their personal information. Afterwards, they'll answer a few IDMA verification questions to verify their identity.  Finally, they'll submit payment for the report. Unlike the tenant background check, which landlords pay for, you can pass the cost of the TransUnion full credit report onto your applicant.
Here's what's included in the TransUnion full credit report: 
$40 per tenant
Full credit report
Resident score
Address history 
Bankruptcy history
Applicant pay option
Rental background check 
Nationwide eviction search 
Social security number verification 
Nationwide criminal and sex offender search
Add-on judgment and liens for $7 per application
Benefits of RentPrep's TransUnion Full Credit Report
Not all applicants need a full credit report, though we do generally recommend it. Here are some of the benefits to consider if you're deciding between getting the RentPrep full report or just the background check. 
The tenant can pay the application fee
National searches included at no additional cost
A full credit report gives you a more complete picture of an applicant's credit history
Only tenant screening company that also allows you to add judgment and liens to a credit report (this information was removed from credit reports in 2017, and now only RentPrep offers this information).
A LexisNexis report found that mortgage borrowers who have a judgment or tax lien are five and a half times more likely to go into pre-foreclosure or foreclosure. Renters with a judgment or tax lien are much more likely to default on their rent as well.
RentPrep Landlord Resources
An additional service that RentPrep provides is a landlord bundle. This is includes over 60 important forms for landlords, such as a rental application, 30-day notice,  lease violation, lease renewal, and more. You can download the bundle straight from RentPrep's website. It retails for $14.95 but is currently available for free. 
If you're looking for tenant screening that includes background checks, credit checks, and judgment and lien checks, consider RentPrep. It's free to start with an account. From there, you can use their other free tools and resources as well as their Live Chat on their platform, which can help you figure out the best way to screen tenants for your business. Get started with a free account.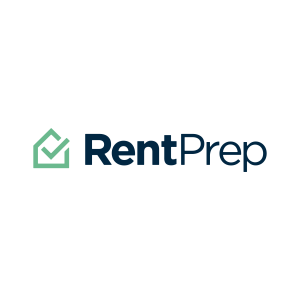 While some landlords may only be looking for tenant screening solutions, we see value in property management software that offers additional tools for landlords to manage their properties, communicate with tenants, and keep a detailed account of their finances and spending. If you're looking for more comprehensive property management software, view our recommendations for other property management software available for small landlords.
Disclosure: Some of the links in this post are affiliate links and Landlord Gurus may earn a commission. Our mission remains to provide valuable resources and information that helps landlords manage their rental properties efficiently and profitably. We link to these companies and their products because of their quality, not because of the commission.